A vacuum cleaner is the best tool for cleaning up dirt and waste which are produced in a work environment: let's find out in this article the features and advantages of its use.
At home we use vacuum cleaners to clean our rooms of dust or crumbs. Similarly, with a professional vacuum cleaner we can very quickly remove dirt and coarse debris from floors and surfaces in our work environment.
This is an easy operation that avoids the fatigue and injury risks associated with manual cleaning, while preventing further hazards: with some of these machines, in fact, if specially provided, toxic and harmful fine dust as well as acidic and alkaline liquids or industrial oils can also be sucked up that could be dangerous if dispersed into the work environment.
In this article we will, therefore, give an overview of professional vacs and see how they can be used, both indoors and outdoors, in any sector: supermarkets, schools, hospitals, gyms, hotels, cafés and restaurants, offices, machine shops, factories, artisan workshops, carpentry shops, small manufacturing businesses, construction sites and industrial plants.

HOW A VACUUM CLEANER WORKS
A vac works thanks to one or more motors which create an air vacuum to suck in, through a flexible hose, dust, liquids and other particles of various kind, and then to convey and keep them inside a closed collection container.
The main components of a vacuum cleaner are:
Head: consisting of one or more electric motors which rotate to create the vacuum effect necessary to suck up the waste into a collection container.
Filtering system: thanks to filters of various types - bag, fabric, cartridge - this is the component that separates dry dust from air, holding the former to return clean dust-free air back into the room.
Collection container: made of plastic or metal, it is the casing where the substances sucked in by the machine are collected under vacuum, generally called a drum.
Suction hose: with various diameters and lengths, it is connected at one end to the collection container and handled by an operator to collect dirt. At the opposite end, it is equipped with nozzles of various types to apply depending on the waste to be removed. Some hoses are flexible or provided with a rigid rod for ease of use, while others may be rigid and curved to allow the operator to reach the floor while keeping an upright position.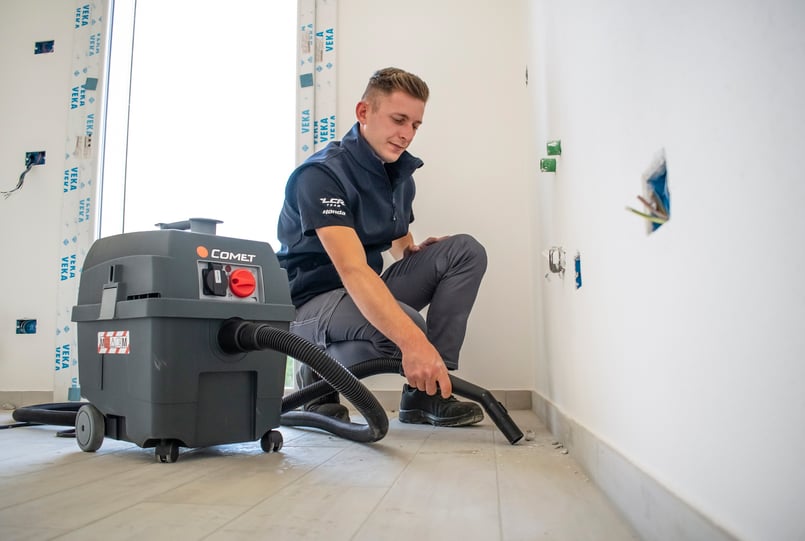 In addition, the vacuum cleaners have additional specific features, such as the "overflow" system which, through a certain number of floats, stops suction if there is excess dust and liquid sucked into the container.
Once turned on, the motor creates a vacuum inside the container: the operator handles the suction hose and brings its nozzle closer to the waste to be removed; the vacuum effect sucks anything inside the hose and holds it in the appropriate container, which will then be emptied to properly dispose of collected dust, liquids and waste.
Finally, to promote its movement and handling from one point to another, the main body of the machine is equipped with wheels. In this way, emptying the collected waste is also facilitated and simplified, thus avoiding unnecessary efforts.
THE TYPES OF VACUUM CLEANER
Vacuum cleaners are mainly divided into:
Dust vac: for vacuuming dry dust and fine particles. They can feature a polyester fabric filtering system to reduce dust above 25 microns, while an absolute Hepa filter can achieve 99.99% grade with dust as low as 03 microns. With good vacuuming power and high filtering capacity, they greatly reduce dust dispersion in the room, making them ideal for use in hotels, community spaces, stores, small-medium businesses and offices.
Wet/Dust vac: for vacuuming, along with dry dust, liquids such as water or water residues, acids, alkalis and industrial oils. Their filtering system, therefore, is actually non-operating but is replaced by a safety system which interrupts suction when the collection container reaches a limit filling amount. Wet vacs are by their nature also dust vacs, just equip them with the filters provided. With their high vacuuming power, they are suitable for use in all professional and industrial environments for vacuuming up processing waste.
Unlike simple vacuum cleaners - small and with a single-phase or battery-powered motor -, wet/dust vacs are larger in size and powered by one or more single-phase and/or three-phase electric motors.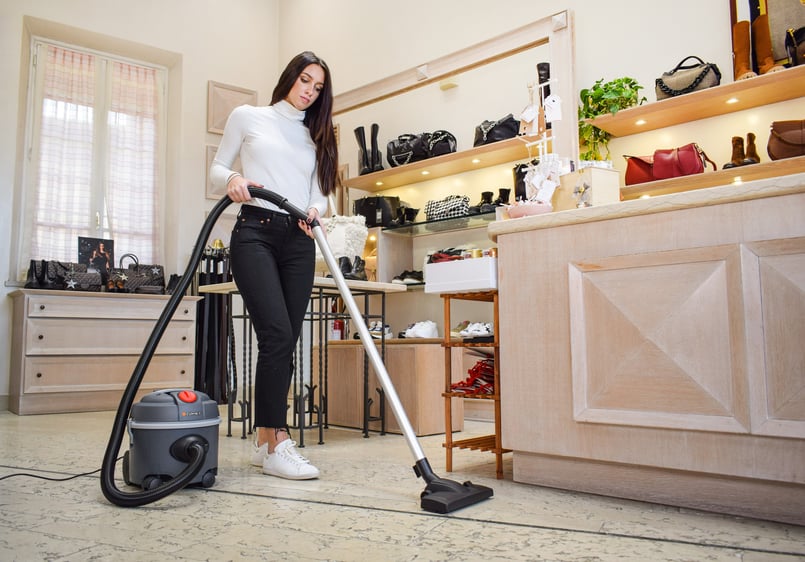 THE VACUUM CLEANERS FOR THE HORECA AND TRADING SECTORS
Vacs, as mentioned above, can be used, in a variety of fields. The choice starts, first of all, with the kind and frequency of use, the environment to be cleaned and the type of dirt to be removed. From these parameters, a number of features can be evaluated for the best choice, such as structure and weight, vacuuming power, dirt collection system, type of filters, collection drum material, noise and accessories.
In trading or hospitality sectors, such as hotels, restaurants, cafés or stores, the vacuum cleaner is very useful for removing dust and liquids from the floor or for cleaning carpets and rugs with high frequency.
In many cases, especially for smaller businesses, one can turn to mid-end vacs.
To facilitate work in larger spaces, such as large hotels or shopping malls, the right choice is for high-end professional vacs, which accomplish the toughest tasks with top efficiency.
There are, in fact, vacs with injection cleaning methods and extraction of cleaning liquids, with such vacuuming powers that fabrics are not left wet after cleaning. They are true carpet washers and are ideal for cleaning fabrics and textile materials in general. Other models, on the contrary, can heat the water needed for cleaning while preserving the soundness of the fitted carpet. However, in this case, we are talking about steam generators with a built-in vacuuming function. Besides sucking up dirt, thanks to the steam at high temperatures, they also perform antibacterial and sanitizing actions on all fabrics and surfaces in general.
Also for hotels or restaurants where, for example, stoves and fireplaces are used for heating or cooking, it is very important to know the difference between dust vacs and ash vacs: two machines created for a rather similar purpose and very similar in operation as well, but using the former to clean up ash and soot produced by fireplaces, pellet stoves or barbecues can cause serious and irreparable damage.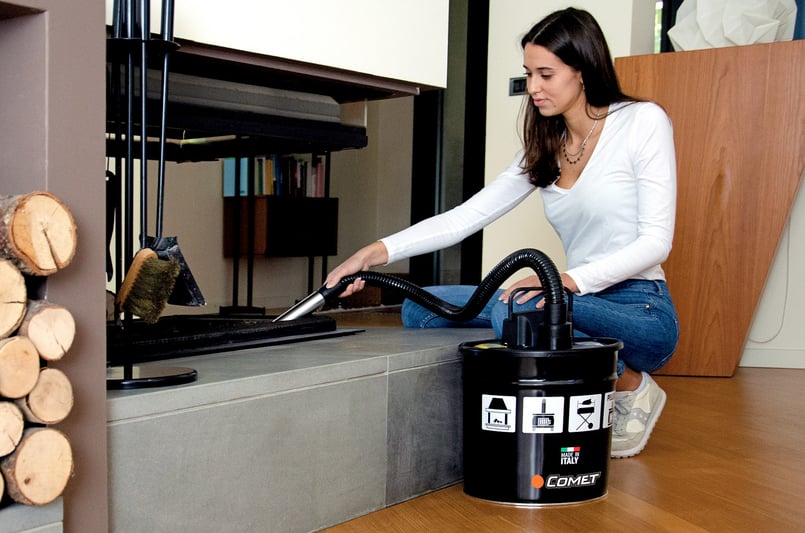 THE VACUUM CLEANERS FOR CONSTRUCTION AND INDUSTRY
Cement dust is impossible to avoid in a building site with excavation, demolition and concrete mixers kneading bags of lime and mountains of sand. In this case, unfortunately, breathing problems for workers are high risk. There are special models of vacuum cleaners for these types of hazardous dust, as well as for sucking in process water, which are sources of pollution and contamination of the environment surrounding the construction sites.
In the metalworking industry, on the other hand, large amounts of metal shavings, solid and liquid processing waste as well as spent oils and acids are produced. These substances are hazardous to the workers' health, so they should be removed efficiently and frequently. Using a vacuum cleaner for this waste can reduce occupational hazards, reuse lubricants through collection and filtering, improve machine tool cleaning and maintenance and reduce downtime for cleaning operations.
Also common in carpentry and body shops is the dispersion of fine dust, only a few microns in size, which stays in the air for a long time and increases the risk of breathing diseases. There are special regulations governing their removal, but a professional vac is essential to keep carpentries and body shops well cleaned of dust at all times. In these cases, an excellent filtering system, good vacuuming power and the suitable length of the suction hoses are essential to reach every point where dust lurks.
Finally, although there are countless possible uses, the vacuum cleaner is very useful in logistics, for storage depots or large-scale distribution warehouses, to remove packaging residues and other coarse waste from the least accessible corners.
VAC PRECAUTIONS AND MAINTENANCE
Now you really know a lot about professional vacuum cleaners and can easily choose the most suitable one for your professional requirements. As a good rule of thumb, in conclusion, we invite you to read one last insight to discover some useful tips to make the most and extend the life of your new vac.