The summer season is the best time to enjoy your pool, but first you need to clean it thoroughly. To avoid paying a lot of money for a maintenance technician, you can do it yourself, which is why you need to know how advantageous it is to use a pressure washer to clean your pool.
Although the pool water is treated with chlorine, it is essential to sanitize the bottom, walls, edges and floor around the pool in order to enjoy it in total safety and freedom, especially at a time like this when it is crucial to sanitize the environments in which we live.
Even if the water in which you dive is disinfected, dirt and impurities can still settle on the surfaces of the pool in winter, when empty, especially if surrounded by trees and vegetation that shed leaves and attract insects.

HOW TO CLEAN YOUR POOL WITH THE PRESSURE WASHER
As a first operation, if you have not done it before winter, you have to empty the pool completely from water and wait for it to dry completely. This way you can collect foliage, soil, insects and other solid waste with a broom or vacuum cleaner.
The walls, however, will probably have some dirt composed of different elements, such as limestone, mould, bacteria, fungi, algae, bird droppings or residues of sun creams and oils.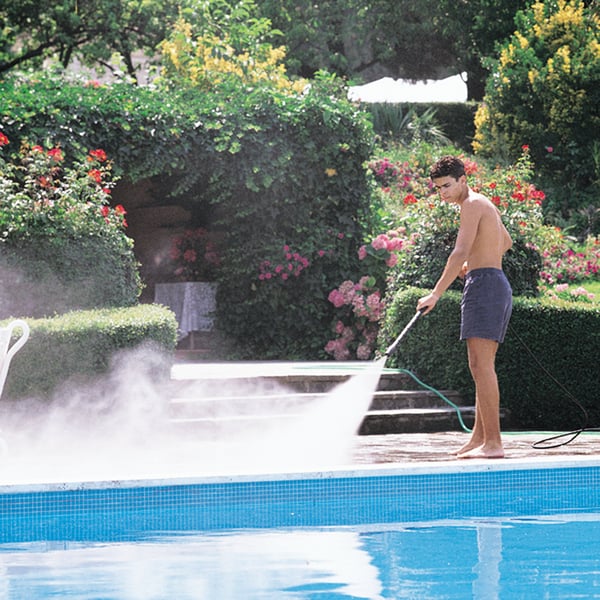 It would take hours of work and a great deal of effort to clean these residues mechanically: this is why a pressure washer is so important.
A good precaution before you start is to cover well any electrical components such as motors, pumps and heating systems.
The high pressure water jet makes the pressure washer the ideal tool to remove dirt as well as the most incrusted residues between the small joints in the pool walls.
The powerful action of pressure can be combined with special cleaning agents or accessories to be mounted on the pressure washer lance, such as rotating heads or brushes.
If the pool is large it is advisable to divide it into sections to clean it without leaving out any points.
For the application of the cleaning agent, move from top to bottom and let it on for 5-10 minutes, taking care to wet it continuously with a low pressure jet, to prevent it from drying too much or dissolving with a strong jet.
Then rinse the cleaning agent, always from top to bottom and with a gentle jet.
At this point you can repeat the same operation on the bottom surface of the pool.
DISCOVER THE PRESSURE WASHERS IN THE COMET RANGE DEDICATED TO POOL CLEANING

ATTENTION TO ALGAE
Special care must be taken to remove algae: the points where they are most easily formed are the water filtering vents, the parts around the ladders and the areas where the water tends to become stagnant the most.
As well as being unsightly, algae can easily cause bacteria to proliferate; they also grow quickly and easily and can severely obstruct pool pipes.
The high pressure produced by the pressure washer manages to detach and completely remove algae from every area where they have been formed.
After removing them, however, it is good to spray an algaecide to prevent them from forming again.
As an alternative to these specific products, you can also use a mix consisting of 4 parts water and 1 part bleach: apply it on the affected part, rub it well with a cloth or brush, leave it on for ten minutes and then rinse thoroughly with a low pressure water jet.
THE RIGHT ACCESSORY FOR EVERY NEED
The best pressure washers are equipped with a wide range of accessories to choose from to remove all types of dirt with maximum efficiency and comfort.
For example, you can easily reach tile joints, edges, spotlights and portholes to remove particularly hard calcifications and incrustations with a precision nozzle.
With special brushes, instead, you can remove the most difficult stains, such as those that form on the waterline or caused by algae, without the risk of scratching the surface and without any effort you would do by hand with an abrasive sponge.
Hose extensions, on the other hand, are very useful for moving around and inside the pool with ease - once emptied - helping you further with hose reels.
Finally, one of the most useful accessories is certainly the floor cleaning lance. This accessory allows washing the entire swimming pool by greatly reducing work time thanks to the fact that the water jet is located on a larger surface. Do not be fooled by the fact that their name is "floor cleaners", in fact they can also be used comfortably on vertical walls thanks to their ergonomic support handle.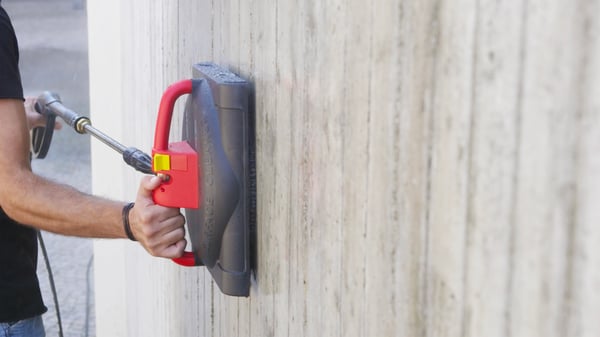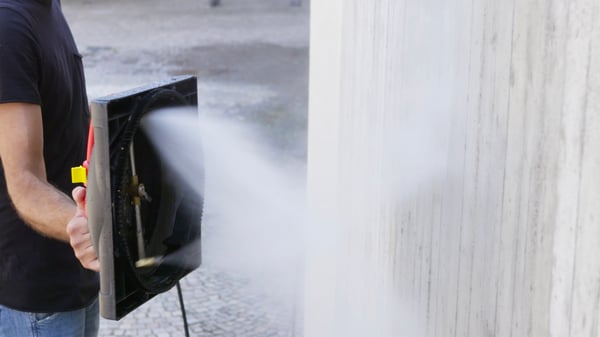 In addition to cleaning at the beginning of the season, the pressure washer is very useful throughout the summer to sweep away leaves, dust, soil and any other type of dirt from the poolside, slides and diving boards, from the floor around the pool, and to wash deckchairs, sunbeds and tables.
HOW TO CHOOSE THE RIGHT PRESSURE WASHER MODEL
You can choose the most suitable pressure washer for your purpose taking into account, first of all, the size of your pool: the larger the area to be cleaned, the better you can rely on a professional or semi-professional model with a high power motor.
On the contrary, if your pool is smaller, you can opt for a more compact and lighter model that is easy to handle and takes up little space in the shed.
If you are lucky enough to have an indoor swimming pool, however, you should definitely opt for a pressure washer with an electric motor that does not emit exhaust fumes, while outdoor you can use both electric and combustion engine models.
You can also choose between cold water and hot water pressure washers: the only precaution, in the second case, is not to use hot water on above-ground or inflatable pools, made with plastic tarpaulins that cannot stand for high temperatures.
For these types of pools, in any case, it is recommended not to exaggerate with the water pressure and operate too close.
Finally, when you purchase a pressure washer, keep in mind that you can use it for many different operations: besides cleaning the pool, it will also be very useful for cleaning gardens and furniture, for yard floors and for washing your car, motorcycle, scooter or bicycle.