With dust and concrete, cleaning on a construction site requires powerful and specialized tools.
Nothing better, therefore, than a good professional cold water pressure washer with gasoline or diesel engine to clean tools, machinery and vehicles. In this article, however, we will discover how a construction site pressure washer is also useful for cleaning facades and floors and for the important sandblasting operations in restoration and renovation works.
THE PRESSURE WASHER FOR CLEANING MACHINERY
Water is widely used in the building industry, both for the preparation of mortars and cement and for the laying of various materials. These operations only require a simple rubber hose. At the end of the work, however, when everything has to be cleaned, it is essential to use the force and pressure of a pressure washer.
Tools, machinery, metal scaffolding and vehicles used in construction are literally attacked by the immense amount of dust and dirt in a construction site, and the lack of proper cleaning can significantly reduce functionality and increase wear and tear. For small and medium sized tools, elbow grease can be used, but it is clear that it is impossible to clean concrete mixers, bulldozers or earthmoving and transport equipment with a simple wet sponge.
That's why a professional pressure washer becomes an essential investment to reduce time to be dedicated to cleaning, thanks to a wide range of accessories - lances, brushes and special nozzles - and the use of detergents and hot water that allow cleaning even the most stubborn dirt, such as grease and scale.
DISCOVER COMET PRESSURE WASHERS WITH GASOLINE AND DIESEL ENGINE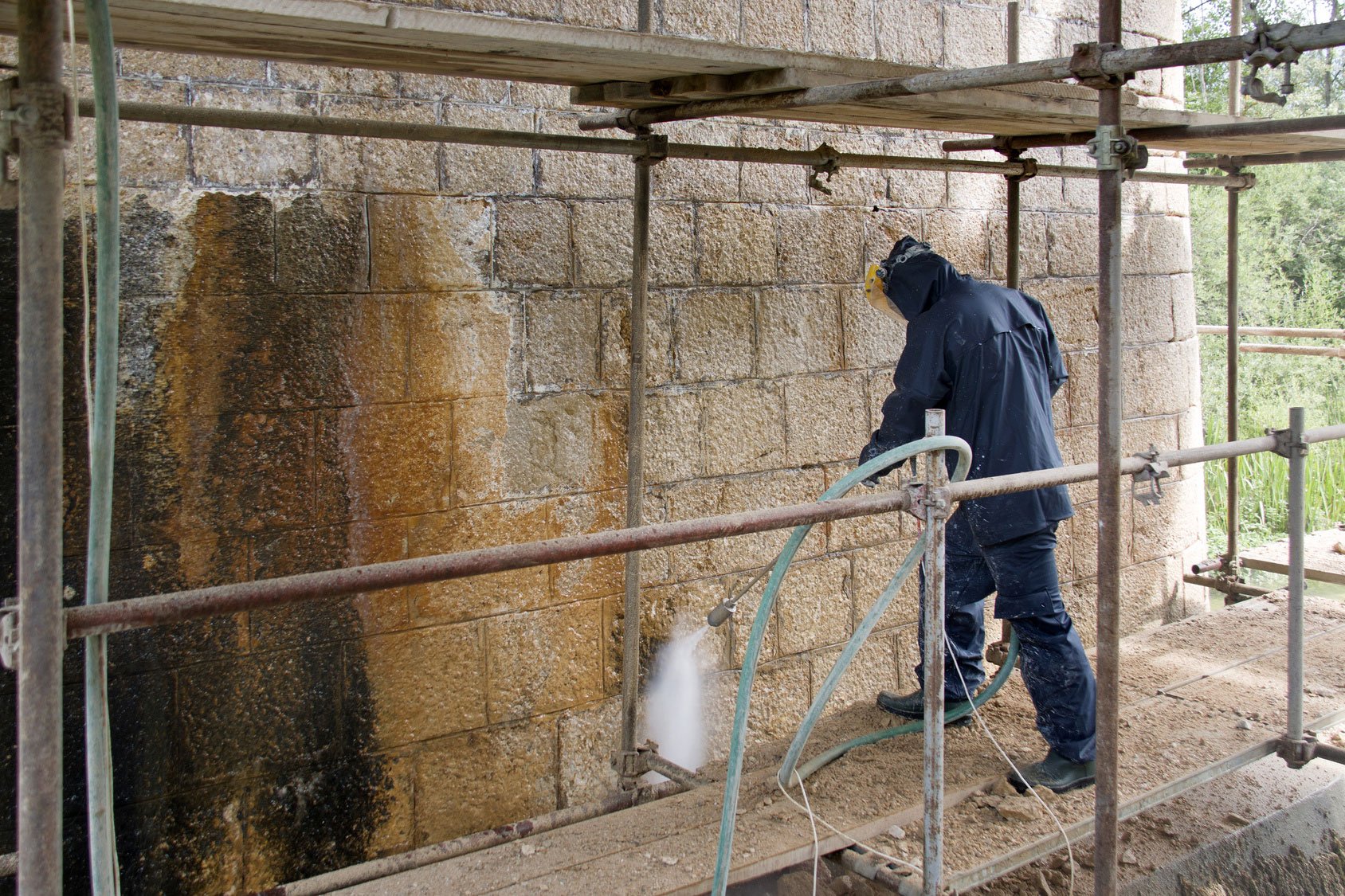 THE PRESSURE WASHER FOR CLEANING FACADES AND SURFACES
Facades, coatings and flat surfaces must be not only built and finished, but also cleaned of smog, dust and various incrustations. In these cases, in order to speed up the phase of moistening and removal of substances that attack the surfaces, professional pressure washers are available in various powers and of the most suitable size for each space.
Using a pressure washer for such operations means exponentially saving time compared to the use of a simple hose, as well as up to 85% of water used, with a consequent lower impact also for wastewater discharges. This is all possible thanks to the pressure water that, with a few operations, is able to guarantee the same results as would be done by hand and with large quantities of detergents.
Specific accessories, such as floor cleaning lances, are specifically designed for cleaning floors and flat surfaces: for small surfaces you can use a brush that can be simply connected to the pressure washer, while for larger surfaces it is even better to rely on a professional sweeping machine. Similarly, when large amounts of dust and small debris have to be removed, it is recommended to use a professional vacuum cleaner before working with the pressure washer.
THE PRESSURE WASHER FOR RESTORATION AND RENOVATION
The pump of a pressure washer, thanks to the pressure it generates, makes water a real tool for the restoration and renovation phases, where it is often necessary to remove dirt, incrustations, waxes, greases, paints and oils from structures and facades.
The energy of water sprayed by the pressure washer's lances and nozzles succeeds in eliminating the crumbling components of old paints and deteriorated parts of masonry and concrete, thus reducing much of the preparatory phase for surface reconstruction.
The power of the pressure washer is also used to roughen the cement immediately after casting and to remove old bitumen layers quickly, efficiently and economically.
SANDBLASTING WITH THE PRESSURE WASHER
During a renovation work, the sandblasting phase is very often used, both for internal and external walls and for the most various components of a building. The sandblasting process originates from the treatment of the metal surfaces carried out before painting, where the roughening of the metal by "spraying" microscopic powder particles facilitates the grip of the paint to be applied.
These same powders are used, in the same way, to clean metal heaters and handrails, wooden parts and various elements made of granite, marble or stone, both from paint and from the layer of dirt left by smog, fumes and limestone incrustations. By sandblasting, moreover, you can treat the plaster to be restored by contacting and removing only the damaged part, without touching the still intact one, thus saving time and materials.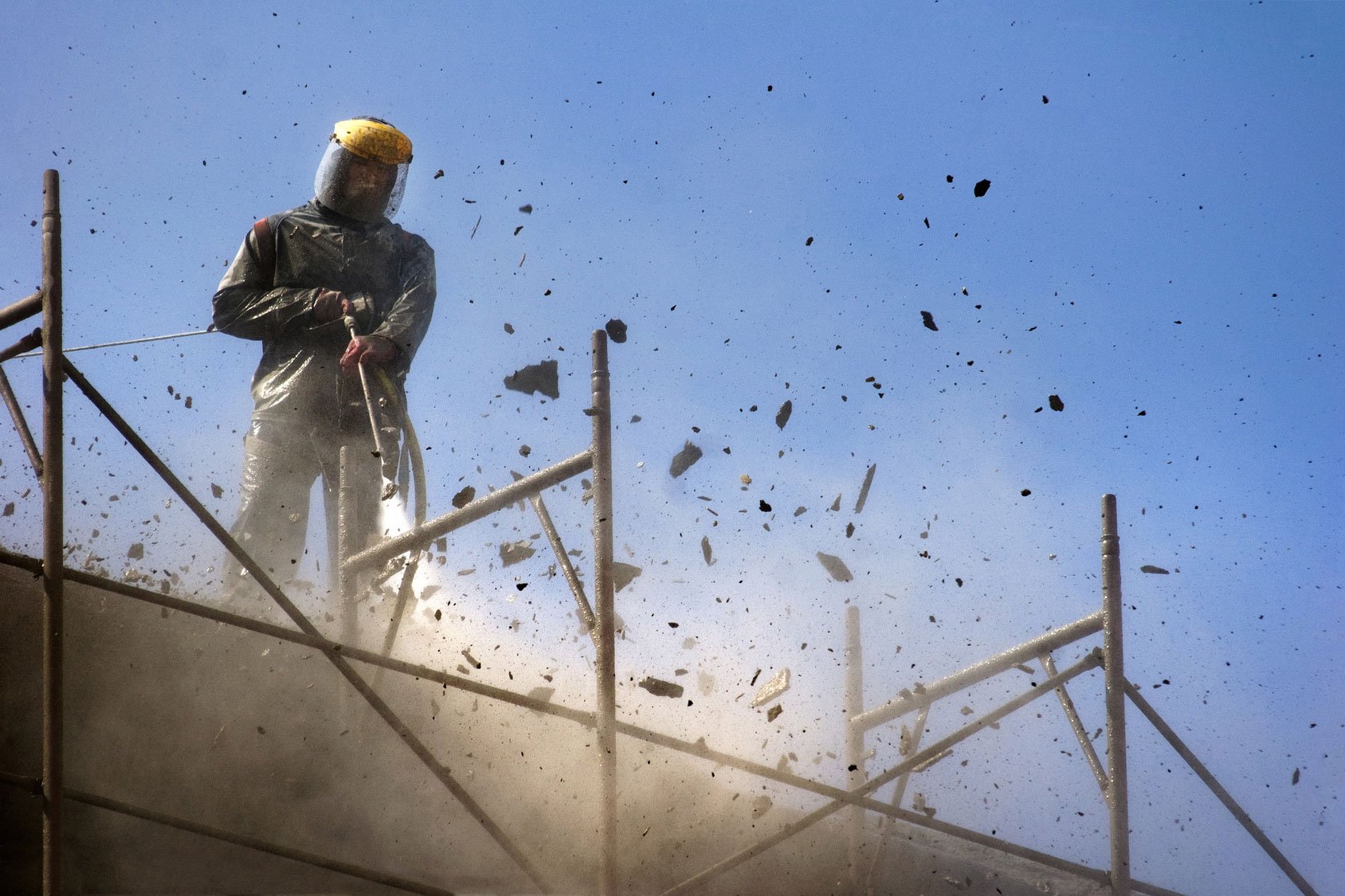 Without having to purchase a sandblasting machine, a professional pressure washer dedicated to the building industry has, among its optional accessories, a sandblasting lance that allows hydro-sandblasting, a special technique which is as innovative as effective. It is a lance provided with a special head that, by means of a hose, sucks calibrated and sharp grains of silica sand (or bicarbonate, if the surfaces to be attacked are particularly delicate and if residues are to be limited as much as possible) by mixing them with water under pressure, thus increasing exponentially the abrasive function of the jet produced.
DISCOVER THE RANGE OF COMET PRESSURE WASHERS DEDICATED TO THE BUILDING INDUSTRY
The result is even better than just sandblasting, since the aqueous component removes the less cohesive parts with greater precision and, at the same time, washes away soluble products. Finally, there is no risk of damaging the original parts of the materials to be restored because an accurate adjustment offered by the pressure washers on the market allows both attacking the most stubborn dirt and operating in a precise and careful way only on the deteriorated parts, safeguarding the healthy ones.
At this point you are aware of all the main advantages of working in the building industry with a professional pressure washer. All you have to do is choose the one with the most suitable size and power supply (diesel or gasoline) for your needs, to make your work on site easier, more comfortable and cleaner.
VACUUM CLEANER FOR CONSTRUCTION SITES
Not only washing and sandblasting, but also suction.
In the building industry, cement dust is unavoidable, with excavations, demolitions and concrete mixers that mix bags of lime and mountains of sand. Breathing problems and lethal diseases such as silicosis are a very high risk for workers. There are special models of vacuum cleaners for these types of hazardous dusts, as well as for vacuuming processing water, sources of pollution and contamination of the environments surrounding the construction sites.
The wide Comet range includes the CVP 130 PEM vacuum cleaner with certification for M-class dust, therefore it is particularly suitable for environments such as carpentries, construction sites, industrial plants, etc..