There are countless uses for a pressure washer in the professional field: pressurized water, in fact, removes all kinds of dirt. In some sectors, it is the hot water ones that provide the best performance, making your job easier.
The choice of a pressure washer is related to the purpose for which it is used and, most importantly, to the type of dirt to be tackled. In some professional fields, such as agriculture, where dirt is anywhere and difficult to remove, simple cleaning with pressurized water is not enough. In these cases, the hot water pressure washer is the best ally for quick, effective and professional cleaning.
HOW THE HOT WATER PRESSURE WASHER WORKS
Compared with cold water pressure washers, hot water pressure washers are equipped with a boiler that allows the water to be heated to a temperature to dissolve grease and oil from hydrocarbons or compounds of plant and animal origin. High-temperature water promotes the dissolution of oil-type dirt and the removal of greasy dirt, such as manure, to ensure compliance with hygiene requirements imposed by laws.
THE HOT WATER PRESSURE WASHER FOR FARMS
In all sectors of the agricultural and animal husbandry industry, cleanliness has become an indispensable element to be complied with, not least because of the numerous regulations that set precise obligations and quality standards. Keeping stables, poultry houses, dairies and warehouses clean involves long hours of labor and effort. Whereas in the old days, however, it was man who had to scrape, sweep and scoop with rakes, brooms and shovels, today the power of a pressure washer can be used to remove all kinds of dirt from any space, even those least reached by traditional tools.
With the Comet KF EXTRA hot water pressure washer, for example, you can, with just a few quick sweeps, easily remove mud and soil from yards, barn walls, greenhouses and warehouses and from any other surface or machinery.
A farmer, then, spends much of the day keeping pens and livestock shelters clean of droppings and manure because, in any livestock farm, it is essential to avoid infection and the proliferation of bacteria, germs and parasites.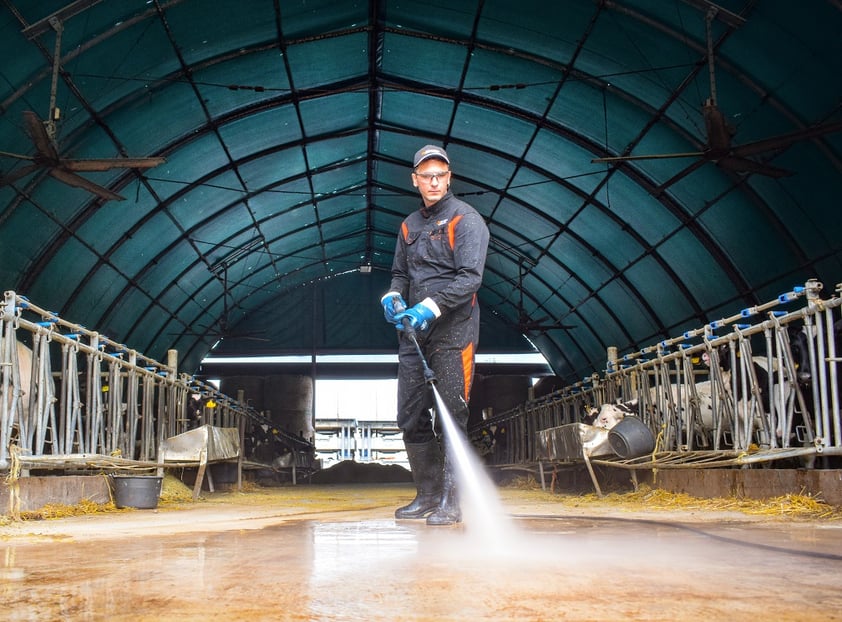 Therefore, a hot water pressure washer is good for:
Quickly and easily clean sheep, goat or horse feeders of debris:
Clean the stables of manure and mud;
Clear the collection lanes of large cattle shelters of liquid wastes, straw and excrement;
The Comet KM EVO hot water pressure washer is ideal for combating and removing these materials from environments, vehicles and equipment.
THE HOT WATER PRESSURE WASHER FOR AGRICULTURAL EQUIPMENT
A farmer's main allies are his farm equipment, and every farmer knows how crucial it is to keep his equipment clean to reduce breakdowns and avoid heavy repair costs. That's why it is very beneficial to use a pressure washer, to keep the implements used in the fields clean at all times.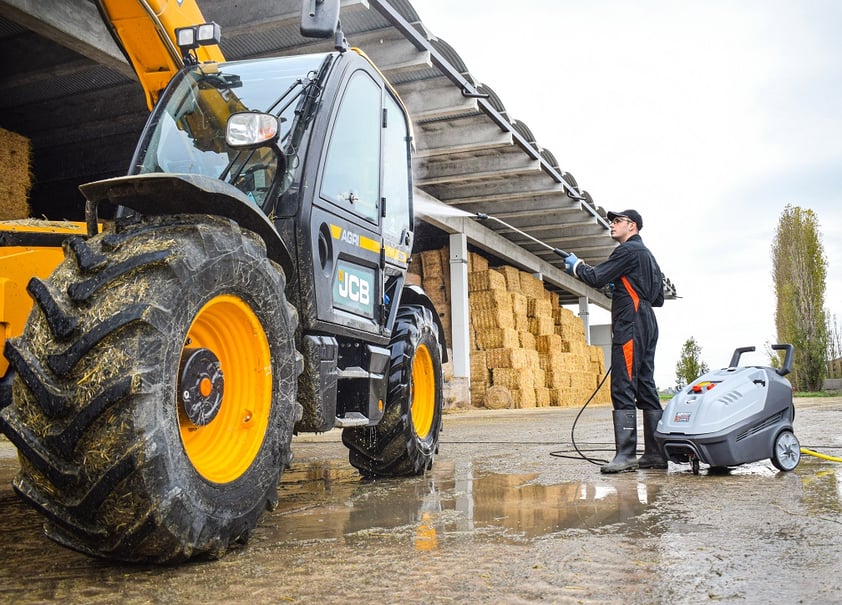 Cold water, however, is ineffective against grease because it can only disperse the hydrogenated micro-particles that make up oil and grease, but it cannot remove them quickly and thoroughly from surfaces. That is why on agricultural vehicles it is essential to use a hot water pressure washer.
A hot water pressure washer such as the Comet KP PRO is ideal against grease and more difficult encrustations that can form on wheels, mechanical joints and all kinds of surfaces.