After the dirt accumulated during winter, cleaning up gardens, windows and outdoor areas can be challenging and tiring. It becomes much easier, however, if you carry out your spring cleaning with a home or semi-professional pressure washer.
When the first warm weather arrives and the spring season begins, we desire to open windows and balconies and enjoy the outdoor spaces of our homes. Too bad, however, that the winter cold and laziness have made us neglect gardens and yards for months when wind, rain and bad weather carried leaves and waste and deposited layers upon layers of dust, soil, moss and environmental residues of all kinds.
The pressure washer is capable of effortlessly making flat and vertical surfaces shine as well as furniture, saving water and time and avoiding damage caused by trowels and scrapers.
PRESSURE WASHER VS. WATER HOSE
The so-called "water hose" reaches a maximum pressure of 4-5 bars, just enough to barely float a pile of leaves or to "mix" the soil and turn it into mud, even more so if the drainage channels are clogged. The pressure of a pressure washer, on the other hand, reaches hundreds of bars and the water flow rate is unequalled. The models in the Comet range are equipped for the dispensing of detergents and are also effective against moss, mildew and encrusted dirt.
In the shadier areas, on raw wooden parts or around pots and planters, in fact, the humidity of winter often causes the formation of mold and moss. Driveways and courtyards, on the other hand, often end up as sheds for motorcycles and scooters during the cold season, and it may occur that engine oil, fuel or various lubricants inadvertently drip from them. These drawbacks often leave unsightly stains and marks, resistant to simple hand washing, with the risk of damaging floors and surfaces if you try to scrape them off with abrasive tools. With a pressure washer, on the other hand, cleaning is easier, guaranteed and immediate, without any damage.
The pressure washer also guarantees water saving of 70% compared to traditional washing with a water hose. Saving will double if you also consider the environmental plus.
LESS TIME AND MORE ECOLOGY
For many, the spring months are the best - if not the only - time to spend in the garden, taking advantage of the mild weather and without suffering too much from summer heat. That's why it is essential not to waste entire weeks to restore the perfect state of cleanliness, taking time in exhausting and endless operations with rakes and mops. The time saved, therefore, repays by far the investment for the purchase of a pressure washer, which is also useful for washing bikes, motorcycles and cars, for clearing clogged manholes, roofs and gutters and for many other purposes.
Alternatively, you can always address to a cleaning company - but how much would you pay?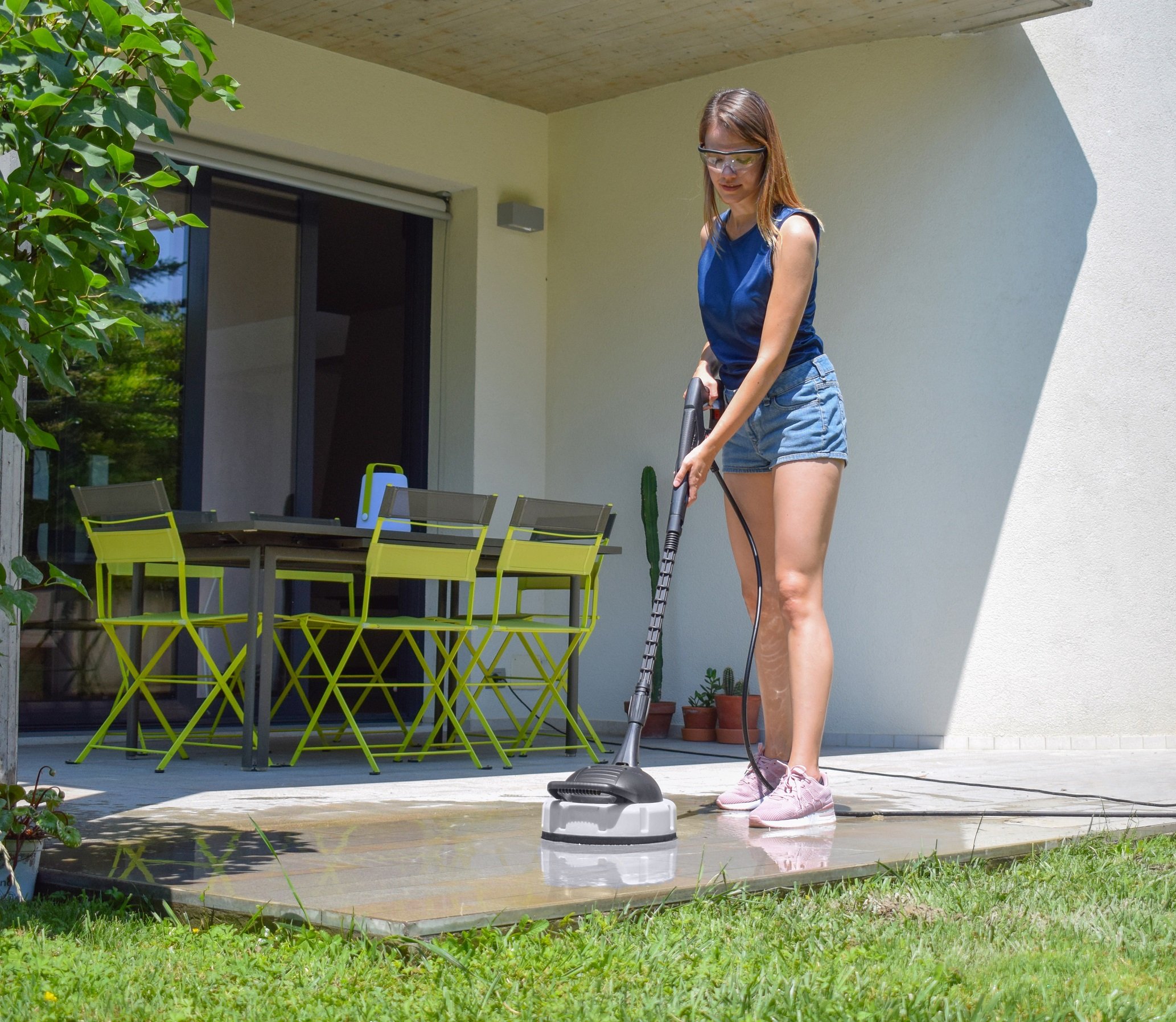 RIGHT ACCESSORIES AND SMALL TIPS
After choosing the best model for your needs, you can select a wide range of accessories to make spring cleaning with your pressure washer even easier.
There are many different types of nozzles available, to obtain as many types of water jet, each suited to a special purpose: a more targeted and pointed jet, for example, is useful to clean between the joints of concrete or tiles, while a larger one is useful for sweeping away foliage and soil.
Lances and extensions will allow you to reach difficult or higher places without resorting to rickety ladders, or to move easily around the area to be cleaned, although many pressure washer models already come with wheels for easier movement.
Special types of brush, rotating or fixed, can be mounted on the pressure washers to clean glass doors and windows, shutters and blinds: one of the most annoying and time-consuming operations to be carried out. Contrary to popular belief, glass frames can easily withstand high pressure, unlike wooden frames and shutters, which require greater caution.
Now you know just about everything there is to know about using your pressure washer to the fullest: happy spring cleaning and enjoy some well-deserved relaxation in your beloved garden!