A nice mountain bike trip is the best way to keep fit and immerse yourself in nature but, before storing it back in the garage, it is convenient to wash it carefully: discover how easy it is to clean your bike with a pressure washer.
The bike, especially if fitted with electric motors and pedal-assisted systems, is becoming an increasingly popular passion, also promoted by a lot of city bike paths and dedicated routes in the countryside and mountains. This environmentally friendly means of transport, suitable to everyone, allows you to have fun in the city and completely immerse yourself in nature along paths you cannot reach by motor vehicles.
After a trip on a dirt or muddy path, however, the bike is covered with dust and mud that must be removed immediately, both to avoid damage to the vehicle and its components and not to dirty the garage or shed where you keep it.
Contrary to what you would do with a car or a motorcycle, you do not take the bicycle to a car wash; at the same time, however, it is not as easy and fast as you think to wash it at home with running water and a sponge: the best choice is to use a pressure washer complete with all its accessories.
WHEN TO WASH YOUR BIKE
If you use a bicycle on a daily basis, for example to go to work from home, you will be accustomed to parking it on the street and outdoors: this involves exposure to dust and weather depositing micro-debris on metal and mechanical components that may cause corrosion and accelerate wear. It is advisable, therefore, to wash your bike periodically, as well as to carry out the routine maintenance.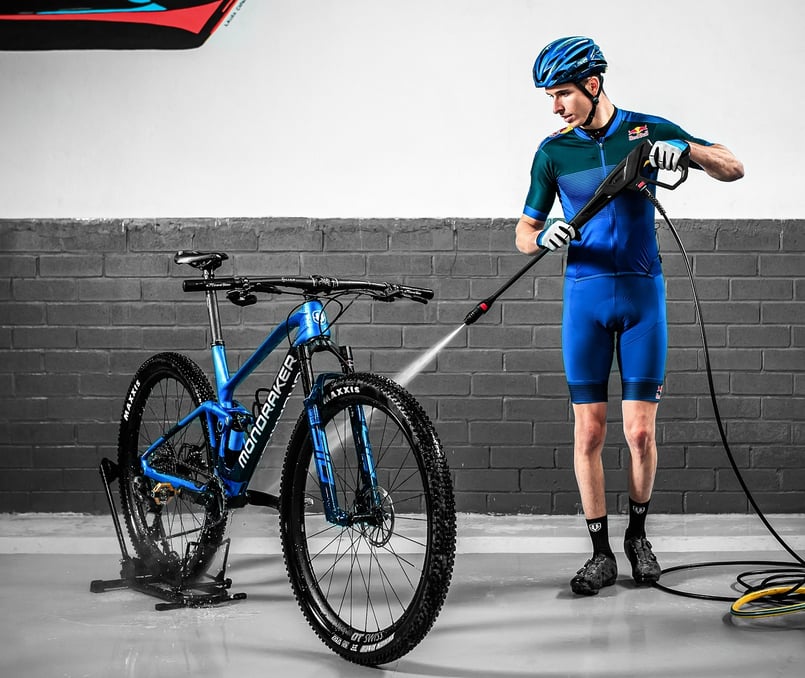 If, on the other hand, you use the mountain bike for more "extreme" practices or for "off-road" trips, it is a good idea to wash it every time you "return to the pits", just like a sports vehicle which is maintained at the top of its performance.
These inconveniences can be avoided by using, in a few minutes, a home or semi-professional pressure washer to wash our favorite "two-wheeled vehicle".
HOW TO WASH YOUR BIKE WITH A PRESSURE WASHER
The models of pressure washers dedicated to bike washing have an adjustable water flow and jet in order not to damage the most sensitive components. A fundamental premise to be made, however, is for electric bikes: avoid directing the jet directly on the electronic parts since they are not waterproof, remove them if possible or protect them from the jet of water.
It is equally important to keep in mind that you are not working with a simple garden hose, but with a jet that delivers a much greater force, so keep a distance of at least one meter from the bicycle, after having positioned it well on a solid stand, against a wall or directly on the ground, so that it does not fall suddenly. Also make sure that water and mud splashes do not end up against people or objects around the washing area.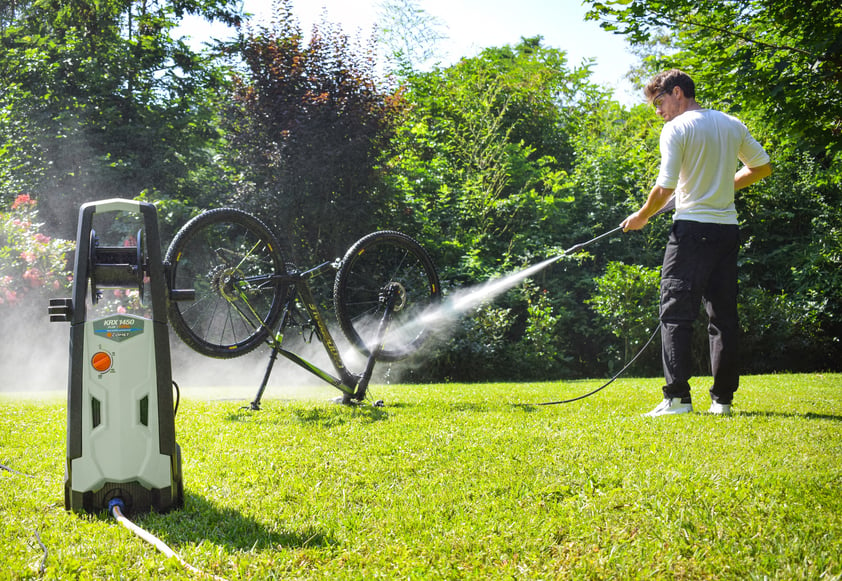 Make an initial general wipe down with water, using a flat jet nozzle on wheels, saddle and frame to remove the surface dirt and moisten already dried soil. Be more gentle on hubs, gears, handlebars and brake and shift levers.
At this point you can use the detergent: there are models of pressure washers equipped with special tanks that deliver the cleaning product in an integrated manner, both liquid and foamy, so you can dissolve the dirt more effectively.
You can then use lances provided with special brushes that rinse and remove the most difficult dirt, without damaging surfaces and materials. If debris remains stuck between the wheel blocks, you can increase pressure or move closer with the nozzle, also using a pointed jet.
AFTER WASHING
In a few minutes and without any effort, your bike will be perfectly clean. Be careful not to leave water deposits that could oxidize the bike, if necessary use a cloth or an air compressor to push the water away.
Then proceed to any greasing and minor maintenance: you can do this without getting dirty and having in full view every inch of your bike. When you have stored the bike in the garage, you can use the pressure washer to quickly clean the washing area from any mud that may have remained on the ground.
Now that you've discovered how easy it is to clean your bike with a pressure washer, you can find out how convenient it is to wash your car, garden furniture, yard floor and all the benefits of this tool as well.