Looking after the house and keeping it clean is one of our priorities. Dusting, washing floors, sanitizing kitchens and bathrooms is very important for the hygiene of our families, because living in a clean environment is more pleasant.
The same care, however, is not always taken when it comes to looking after the exterior of the house and maintaining pathways, courtyards, gardens, balconies, terraces, gates, gutters, stairs and walls clean from waste and environmental elements that may accumulate.
One of the main reasons is, for sure, that outdoor cleaning requires longer times and greater effort than indoor cleaning.
The solution exists and is to use the right tool: a home or semi-professional pressure washer.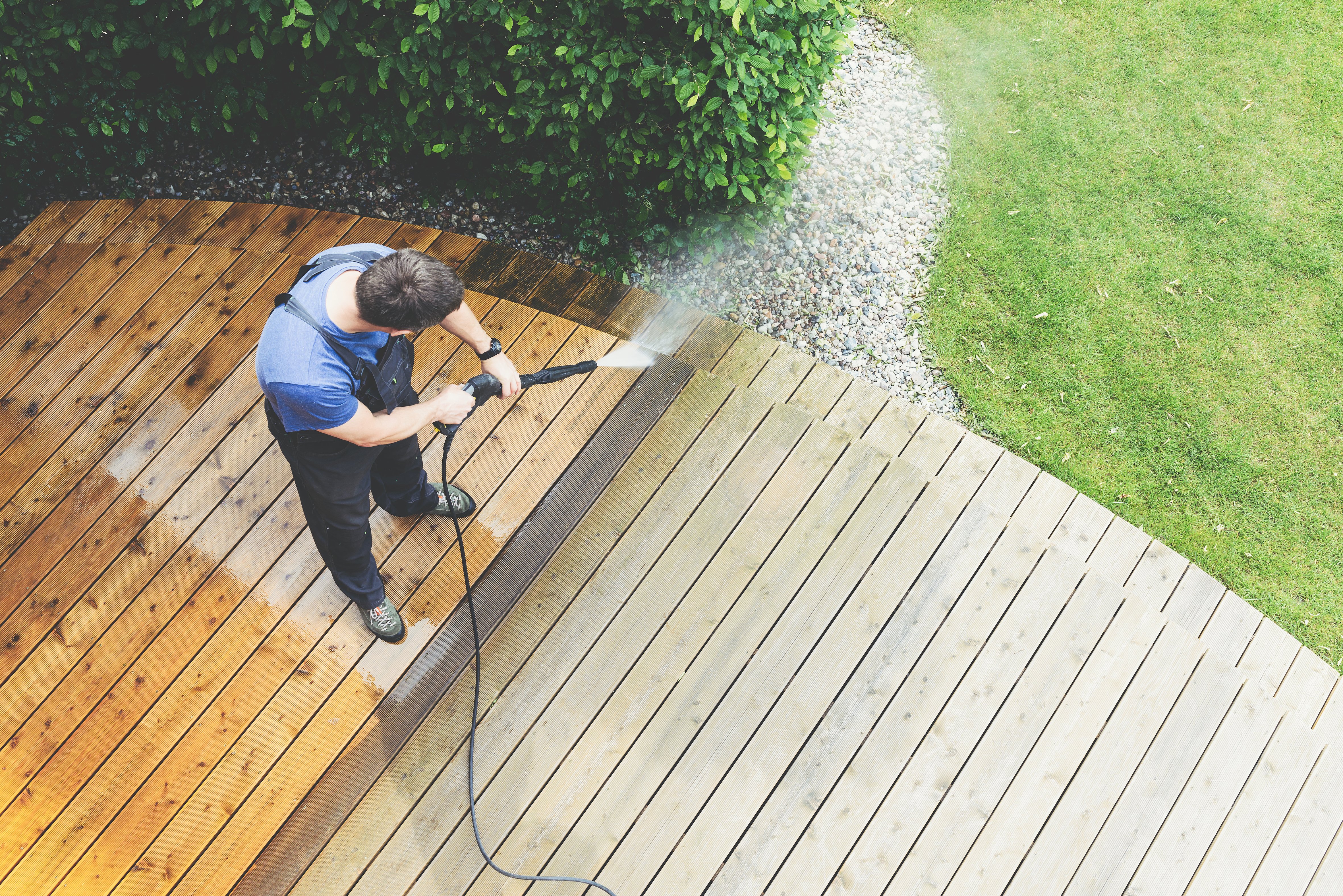 We can use a broom to sweep the living room floor, but it's much faster if we use a vacuum cleaner. To dust the furniture we can use a dishcloth, but an electrostatic cloth is much more effective, and so on... In the same way, if we clean our yard with a simple water hose with a weak jet and sweep the concrete with a broom, we will get only fatigue and poor results. With a home or semi-professional pressure washer, we can, instead, also make the areas around our house and garden furniture shine.
SAVING FIRST OF ALL
If time is money, we can consider it a good saving that using a pressure cleaner will take much less time than cleaning with traditional tools. A simple hose costs a few euros, but the flow rate of water it produces is so small that, on balance, to achieve the same result, in addition to our personal effort, we will have to use 70% more water than the pressure cleaner, with a very high environmental cost.
In addition, a pressure cleaner purchased to clean the yard floor can also be used to wash the car, bicycle, garden furniture, tools, the exterior of shutters, gutters, to unclog manholes and for many other purposes: its cost is therefore amortized by the many advantages.
STOP MOULD, MOSS AND INCRUSTATIONS
Incrustations, mould and moss are not only unpleasant to see but can cause structural damage, they are stubborn and annoying and their elimination is often a problem.
The shaded areas are the most subject to the formation of mould and moss: on walls, fences, around pots and flower boxes. On porous surfaces it is very difficult to remove moisture products and we often ruin colours and paints by trying to scratch them off with tools and sandpaper.
But using a pressure washer this task is within everyone's reach and can be carried out whenever needed without any particular effort.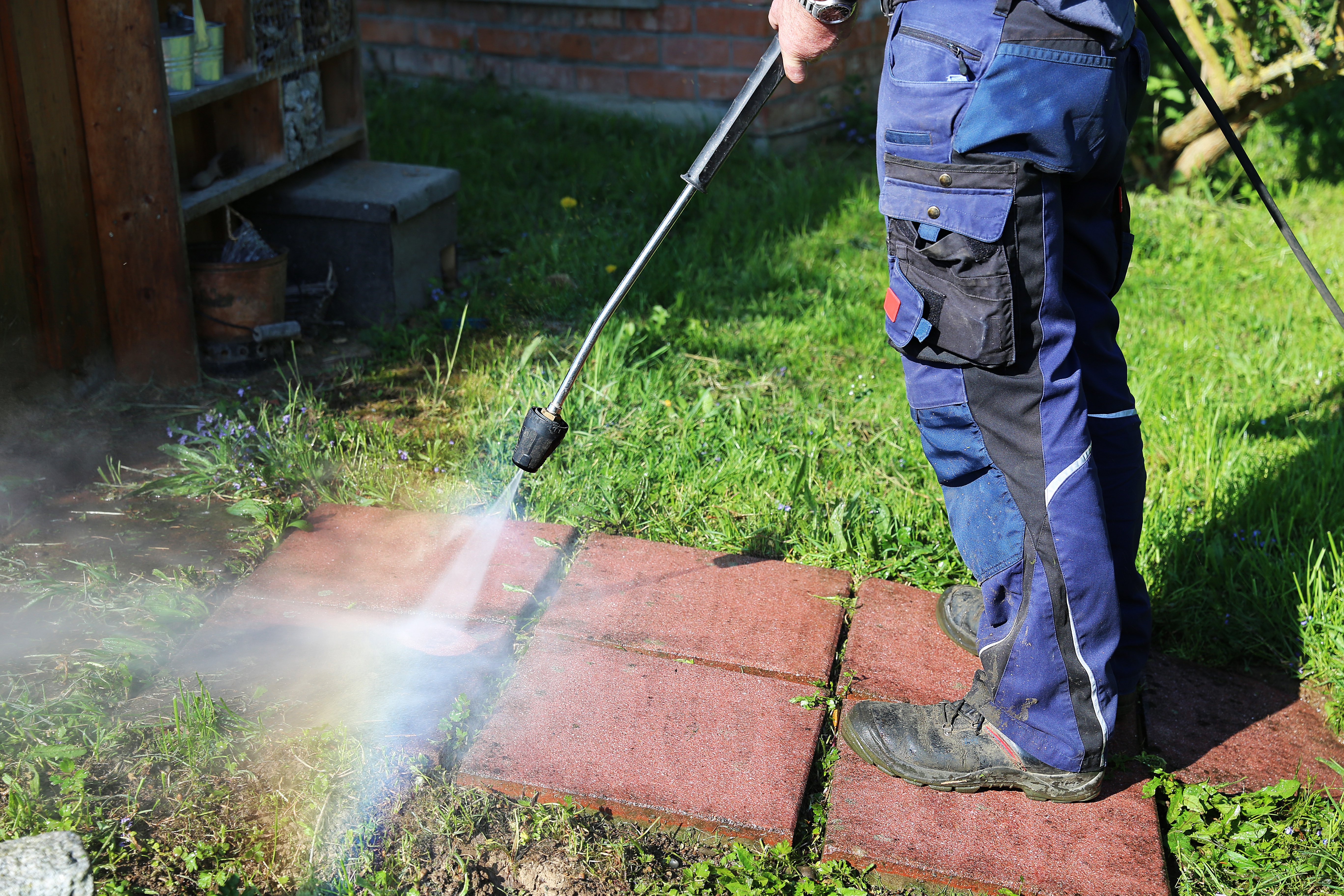 The efficiency of cleaning with a pressure washer is ensured by the water pressure and flow rate.
A normal garden hose can spray water at 10 bars with a flow rate of a few millilitres per second, and the trick of "choking" the hose with your thumb helps very little: the best you can do is move a few leaves or rinse the mud off the less porous tiles.
With a pressure washer, on the other hand, we can get to hundreds of pressure bars and flow rates exponentially higher than those provided by the traditional tap. These are the "weapons" that allow us to fight against incrustations, mould and moss.
It is equally annoying to have to remove tyre tracks or oil droplets left by cars parked in the driveways: it's impossible to remove them with a simple hose.
A pressure washer, equipped for the application of detergents or polishing accessories, allows cleaning all types of material effortlessly and in a short time.
In addition, the hot water pressure cleaner is even more effective against greasy dirt and grease incrustations.
SOME TIPS FOR CLEANING THE GARDEN WITH A PRESSURE WASHER
There are some precautions to be taken to make the best use of a home or semi-professional pressure washerr when cleaning our garden and its accessories.
The pressure, first of all, must be adjusted properly with the appropriate controls, both to respect the materials we want to wash and not to use more water than necessary.
To clean plastic chairs and tables from smog and weather sediments, simply use a low pressure jet together with a special detergent.
To clean an enamelled vase or a painted fence it is useful to make a test starting from a low pressure on a little exposed portion, in order to avoid the detachment of the colouring with excessive pressure.
Glass surfaces do not particularly suffer from pressure, so we can safely wash doors and windows of all sizes, always paying attention to frames and fixtures when made of wood.
Finally, higher pressures can be used on floorings. The choice of a suitable accessory can benefit the work by far: to clean a large area of tiles there are floor cleaning lances, while a nozzle with precise jey is be chosen when we want to carry out finishing between the curbs of the flowerbeds, between the hinges of the gate, up and down the steps of a staircase or between the tile joints.
The types of pressure cleaners are many, from the most manageable to the most powerful ones, and the choice of accessories is wide for every need. So all you have to do is choose the most suitable pressure cleaner for you and finally enjoy the cleaning of your garden as a pleasure, forgetting the effort you have done so far.