Warehouses, amidst cardboard boxes, packages, shelves and handling equipment, are environments where dirt can easily and quickly accumulate. With sweepers, vacuum cleaners and floor scrubber dryers, however, you'll find that warehouse cleaning is quick and effortless.
Cardboard boxes, packages, adhesive tapes, parcels and pallets coming and going; these areas are crossed every day by people, forklift trucks, pallet trucks and other vehicles hundreds of times; gates and doors open and close repeatedly sucking air and dust from the outside: in the warehouses of any company and in logistics centers, dirt and waste are the masters. Moreover, the large size of such areas makes it impossible to clean them manually with brooms, dustpans and rags unless long and heavy efforts.
That's why, to clean warehouse floors and surfaces, it is essential to rely on professional tools dedicated to vacuum and floor care.
THE ADVANTAGES OF FLOOR CARE
The advantages of using vacuum cleaners, sweepers and scrubber dryers are many. First of all, cleaning operations can be carried out without interrupting the production cycle, as these tools can also be used in the presence of people. Logistics is a sector where time is money and shifts do not provide for breaks, sometimes not even at night. Therefore, it would be impossible to have to stop work for cleaning, causing stoppages or slowing down the scheduled activities.
With vacuum cleaners, sweepers and scrubber dryers, which are easy to use, it is possible to work at the same time as the frantic passage of men and vehicles, operating immediately and leaving everything clean and dry, without even having to resort to expensive cleaning companies.
The level of well-being and safety of workers is also increased, thus removing dust that is dangerous to health if inhaled every day. Less dust on the ground and in the environment, moreover, allows keeping the packages always clean, enhancing customer's satisfaction at the receipt of the goods.
By quickly picking up from the ground the plastic and cardboard residues that come off the packages or any oils and liquids, which therefore represent dangerous obstacles, you could avoid causing accidents to the vehicles used for handling,
Comet's range of floor care machines features numerous models meeting the needs of the logistics sector, such as the ease of movement between the warehouse's aisles and shelves, reliability and strength of components, ease and safety of use.
THE ADVANTAGES OF FLOOR SCRUBBER DRYERS
Scrubber dryers are the best tool for professionally washing and sanitizing floors of all kinds, materials and sizes. By cleaning and drying quickly and thoroughly, these machines ensure floors which are immediately dry and safe, thus preventing areas to be cleaned from being closed for long periods of time or someone from slipping on water residues.
These machines are characterized by the cleaning and abrasive action of rotating brushes which dispense a detergent solution on the floor to dissolve the dirt. The residual liquid is then collected by a squeegee and immediately conveyed into a special tank by a turbine, thus leaving the floor dry.
Scrubber dryers are also divided according to how they are driven:
push (walk-behind) series are driven by the operator thanks to a handle on the back; they are suitable for the smallest spaces such as small warehouses, offices, conference rooms, refreshment rooms, cafés and all areas up to 500 square meters.
Their compactness allows frequent use in limited areas even in the presence of people, where a larger machine would be intrusive.
ride-on series are equipped with a seat for the operator and a steering wheel for driving. More powerful, they can comfortably operate in areas up to 12,000 square meters, such as e.g. large warehouses, logistics centers, companies, warehouses, etc.
With higher output and range, they allow longer working time than a walk-behind machine.
Easy to use even by unskilled personnel, the scrubber dryers offer enormous advantages over traditional cleaning:
they reduce working time by more than 50%.
they wash and sanitize floors without closing the area to the public
they consume less water and detergent, achieving a higher level of hygiene than conventional washing
they leave no marks or stains on the ground, ensuring an excellent aesthetic result.
THE ADVANTAGES OF THE SWEEPER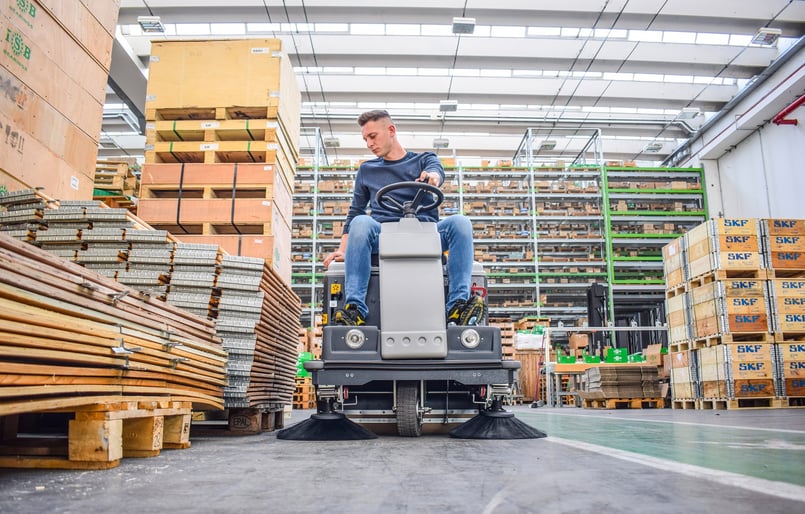 To collect coarse dirt and dust from every floor, the sweeper is the most suitable machine.
Thanks to its side brushes conveying the dirt towards a central roller brush, the sweeper loads the dirt into a special container, thus eliminating the effort required for manual sweeping, reducing working time and dust residues dispersed by broom and dustpan.
Sweepers are divided into:
push (walk-behind) series, compact and agile, suitable for small environments and in the presence of obstacles;
ride-on series, powerful and fast, capable of high performance on very large surfaces.
When choosing a sweeper, it is necessary to consider the size of the environment and, depending on whether it is indoor or outdoor, the power supply of the machine: for open spaces, you can choose a machine with an internal combustion engine; for an enclosed space, on the contrary, you are obliged to choose an electric machine, to avoid the exhaust fumes emitted by endothermic models.
A wise choice will allow maximizing the working time and exploit the full potential of the sweeper, forgetting the waste of time and effort implied by traditional cleaning.

REMOVE THE WASTE WITH THE VACUUM CLEANER
Before working with sweepers and scrubber dryers on the floors, or to remove packaging residues and other coarse waste from the least accessible corners, you can use a vacuum cleaner.
There are many models of vacuum cleaners, equipped with numerous and practical accessories, suitable for every professional sector, including the logistics sector where dust, stones, tire tracks and oil stains are not lacking and may be a cause of injury for operators or damage the goods to be handled and stored.
For more information, please read PROFESSIONAL VACUUM CLEANERS: FOR A CLEAN AND HEALTHY WORKPLACE
Now you know all the professional tools for cleaning your warehouses: all you have to do is choose the ones that best suit your needs and maximize your production output.