To get ready for the warm weather and experience our outdoor activities to the fullest, summertime is the right time to clean up gardens, windows and outdoor spaces and wash RVs, bikes and boats for our outdoor holidays. You can do this effortlessly and in no time with a household pressure washer.
YARDS AND POOLS CLEANED WITH THE PRESSURE WASHER
IThe outdoor spaces of our home can be cleaned shining with a household pressure washer, without resorting to a cleaning company. Dust, soil, as well as mosses and stubborn dirt can be removed in no time from pavements, walls, gates, facades, windows and garages.
Likewise, without paying handsomely for a maintainer, you can clean your pool with a pressure washer before you take your first dips and throughout the summer season: sanitize the bottom, walls, edges and floor around the pool so you can enjoy it safely and freely.
A SHINING RV AND BOAT WITH THE PRESSURE WASHER
If, on the other hand, your home is the road and you live the summer plying the seven seas, the pressure washer is also very useful for cleaning RVs and boats.
Boat and RVs, in fact, are ideal for those who love to travel and live outdoors, but those who own them know how important and tiring cleaning and maintenance is. These operations can become easier if a pressure washer is used.
YOUR BIKE ALWAYS CLEAN WITH THE PRESSURE WASHER
Finally, if your passion is mountain biking, mud and soil will be what you need to clean up most frequently: nothing easier for a pressure washer.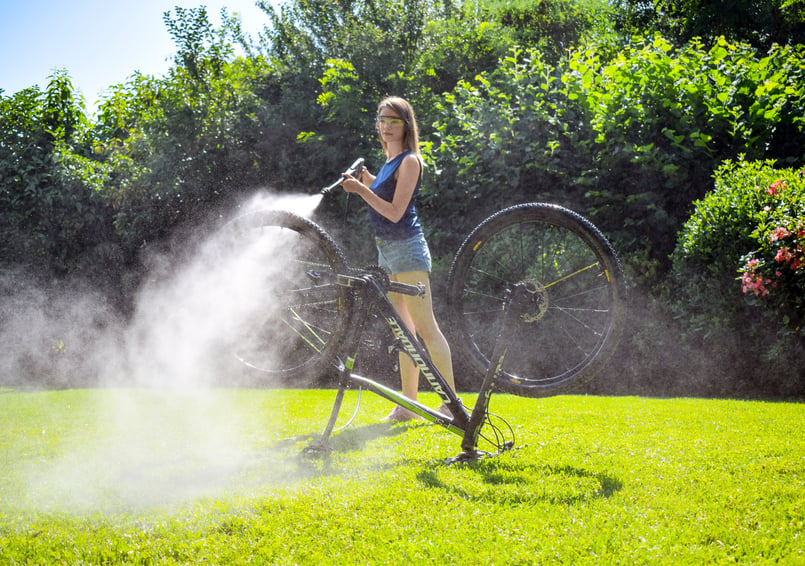 Before returning after a hike on dusty or muddy terrain, the pressure washer will keep your bike and house clean at all times.