The streets of our cities are increasingly targeted by vandals who cover walls and street furniture with graffiti and illegal murals.
This is a big problem for public administrations, but urban cleaning companies can easily fix it by sandblasting with a pressure washer.
When carried out to order and with regular authorization, graffiti are a true work of art that enriches the urban landscapes of small and large cities. In most cases, however, writers act stealthily, in violation of the law, leaving on walls, shelters, public means of transport, dumpsters and other street furniture signatures, tags, drawings and scribbles with spray paint or indelible ink markers. These vandals don't even spare private buildings, also attacking the facades and doors of houses, blocks of flats and production plants.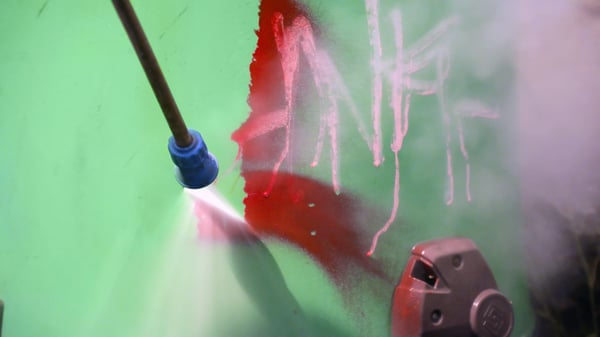 Public bodies, but also private citizens, spend huge amounts of money every year on graffiti removal and, if the right methods are not used, the results are often unsatisfying and even worse. For a long time only simple detergents and chemicals, often useless against paint, or abrasive tools that irreparably damage surfaces, have been used.
For these reasons, companies specialized in graffiti removal usually employ a professional pressure washer. Urban cleaning is therefore in addition to the already numerous uses that can be made of a pressure washer: home and garden cleaning, construction and agricultural work, washing cars and other means of transport.
REMOVE GRAFFITI BY SANDBLASTING
Professional pressure washers produce a jet at such high pressure that paint and ink are removed with the simple use of water. Special models, moreover, can use detergents and produce hot water, in order to remove graffiti more easily.
For the removal of the toughest graffiti, instead, the pressure washer relies on the sandblasting technique, a process created for the treatment of metals before painting, which sprays microscopic particles of powder on the metal surface to make it rougher and facilitate the grip of the paint to be applied.
Likewise, micro-powder is used to clean plastic, metal, wooden, and masonry surfaces from smog, dirt and - as in the case of graffiti - ink and paint.
THE ADVANTAGES OF SANDBLASTING WITH THE PRESSURE WASHER
In addition to its great effectiveness, the advantage of sandblasting compared to traditional methods is saving time and effort and, above all, not damaging the surfaces to be cleaned. To perform sandblasting operations there are special sandblasting machines, but for a company specialized in urban cleaning it is much more convenient to purchase a professional pressure washer, to be used in the most usual washing and cleaning operations, to which a special accessory that allows hydro-sandblasting can be added.
This kit consists of a lance with a sandblasting head and a probe that sucks in the abrasive material. The most used materials are siliceous sand, which has a greater cleaning power but is very aggressive and therefore not suitable for delicate surfaces; it also leaves many residues that will have to be removed. The alternative is bicarbonate which has a good cleaning power and is particularly suitable for delicate surfaces (often used for example in urban cleaning of monuments or historical buildings), without leaving residues. These materials sucked in by the probe are mixed with the pressurized water of the pressure washer: the targeted and concentrated jet coming out of the nozzle of the sandblasting head removes graffiti and leaves intact the original material of the surface targeted by the writer.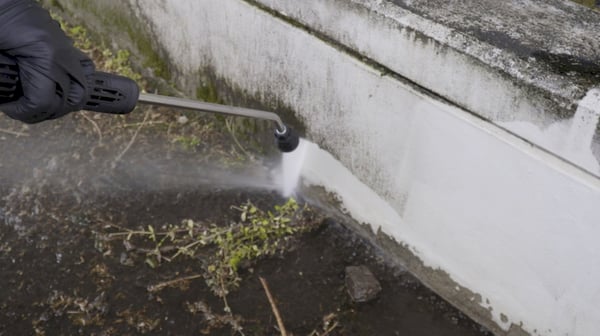 By sandblasting with the pressure washer, graffiti removal can take place in a very short time, whether you have to work on a small surface or on a larger one: by using lances and extensions, for example, you can reach the highest points of a wall without using ladders or scaffolding.
Professionals in charge of urban cleaning can also take advantage of the pressure washer to carry out many other operations without using other tools. With hydro-sandblasting you can remove rust and incrustations, or deteriorated plasters; with the classic use of the pressure washer, finally, you can wash the street, the wall and the overall space in which the graffiti is located.
HOW TO CHOOSE THE PRESSURE WASHER FOR URBAN CLEANING
For professionals of urban cleaning, the best choice is to purchase a high-end pressure washer, optimizing the initial investment thanks to the various uses they will make of the machine and greater comfort. The evaluation, then, should also take into account the working conditions: basically, outdoors, where any exhaust fumes from the machine do not create problems, and moving on the road even for hundreds of meters is an essential feature.
By purchasing a pressure washer with internal combustion engine, therefore, the operator will not be bound to an electric power cable and will be able to move freely thanks to the wheels that the larger and more powerful pressure washers are equipped with, together with the accessory-holding trolleys.
On the contrary, if you also plan to work indoors, you must forcibly opt for the purchase of an electrically-powered pressure washer that does not produce dangerous exhaust fumes for an enclosed, unventilated area.
Thanks to these tips, you are now aware of the results and pluses of the pressure washer for graffiti removal and urban cleaning operations: you just have to choose the one that best suits you among the many professional pressure washers in the Comet range.