One of the main features to evaluate when choosing a pressure washer is the engine. There are, in fact, pressure washers with endothermic engine, or internal combustion engine, and electric pressure washers.
The difference, it goes without saying, lies in the driving force and its power supply.
The endothermic engine is based on a combustion chamber, fuelled by petrol or diesel.
The electric motor, on the other hand, needs to be connected to a power source using power cables: a traditional 220 Volt plug, or 380 Volt in the case of industrial installations.
But what are the main differences between the two types and which pressure washer should be purchased?
In general terms, the pressure washers with internal combustion engine are more for professional use, while the electric ones range from professional to domestic use, mainly due to the lower weight and size of some models.

ELECTRIC VS ENDOTHERMAL: PRO AND CONS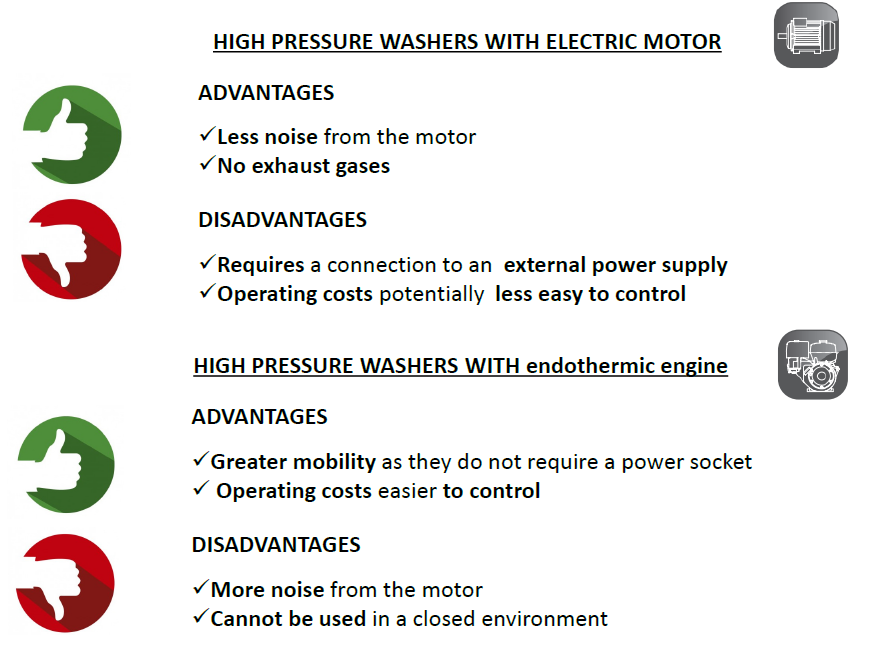 PRESSURE WASHERS WITH ENDOTHERMIC ENGINE
Generally speaking, the weight of a combustion engine is at least 10 kilograms, a factor that has important consequences for the entire machinery, starting with its rougher and less compact look.
A typical pressure washer with internal combustion engine is equipped with a very strong metal frame, capable of absorbing well the vibrations produced by the engine. In order to move such a heavy machinery more easily, two or four wheels with tires, mounted at the base of the frame, are essential.
There are, however, also pressure washers with endothermic engine of smaller dimensions and very handy as the FDX BLADE XL.
In the case of hot water pressure washers, another important component is the boiler, capable of heating the water to remove grease and encrusted dirt.
The FDX HOT CUBE X-Special Hot Water Comet, however, has a vertical boiler with double spiral coil and can be directly connected to a water source.
The first advantage of an endothermic pressure washer is, of course, the possibility to use it without any constraint of movement, not being connected with cable to any socket. It is ideal for cleaning very large surfaces such as yards and parking lots, for construction sites, or in any location where electricity is not available, such as motocross or off-road tracks.
It is also usually more powerful than an electrically-powered pressure washer and can produce higher pressure and water flow (the FDX Xtreme XL Comet, for example, reaches 500 bar), which is why it is used for more demanding jobs, such as removing graffiti, cleaning drains and sewers, or is used on industrial sites and farms, i.e. environments where shocks are more frequent and sturdy equipment made from strong and durable materials is required.
It should be borne in mind that the combustion that fuels the engine inevitably produces exhaust gases, just as a car or motorcycle does: for this reason a pressure washer with an endothermic engine cannot be used indoor.
Obviously the price of a pressure washer with internal combustion engine tends to be higher than an electric one, easier for a company's budget than that of a family.

PRESSURE WASHERS WITH ELECTRIC MOTOR
The main advantage of a pressure washer powered by an electric motor is, without doubt, practicality of use. The engine is small in size, and there is no need for a combustion chamber, petrol or diesel tank and flue gas ducts.

An electric pressure washer can also be small in size, protected by plastic casings, lightweight and equipped with small wheels for easy movement.
It is ideal for home cleaning and sanitization, for washing the outside of doors and windows, for removing dust and dirt from the garden, outdoor furniture and for semi-professional use.
The discomfort of the power cord can be overcome with the use of extensions but it is more suitable for short-range operations that do not require special travel, or for washing the car, motorcycle, scooter or bicycle in the backyard.
For a family or small business it may be cheaper to purchase a pressure washer with an electric motor, given its lower price compared to endothermic models, and the excellent price-performance ratio.
As far as professional uses are concerned, on the other hand, the latest-generation electric models boast performances which are in no way inferior to endothermic ones.
The Blue Series Steel K Xtreme Comet with cold water, e.g., reaches 500 bar pressure and the Red Series Professional KF EXTRA Comet has a steam function up to 140°.

READ ALSO: COLD WATER OR HOT WATER PRESSURE WASHERS: HOW TO CHOOSE

ELECTRIC OR ENDOTHERMIC?
The choice between electric and endothermic for professional use is closely linked to the type of supply available.
Pressure washers with internal combustion engine are the ideal solution when there is no electrical connection in the working area or where it does not reach the adequate power, in any activity where a completely autonomous and easily transportable pressure washer is required.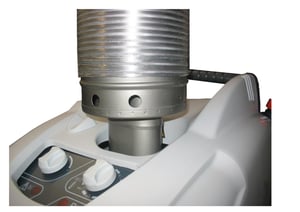 Electric pressure washers, on the other hand, if equipped with an exhausted flue gas conveyor, can also be used inside industrial sheds, such as food industries, indoor car washes, etc., and are also less noisy.


PRESSURE WASHER WITH ENDOTHERMIC ENGINE: SPECIAL PRECAUTIONS
If you have opted for an the endothermic engine, consider these indications to have more performance and avoid failures and inconveniences :
If your pressure washer has not been used for several months, make sure there is no petrol left inside, because the season and temperature changes may deteriorate the fuel and produce deposits that can damage the engine.
If you plan to store your pressure washer for some time, empty the tank and keep the fuel in a jerry can, however, no longer than 4 months.
If you cannot empty the fuel tank, add some stabilizer fluid before storing the pressure washer.
In case the pressure washer has not been used for a long period, we recommend using new fuel.