A metalworking shop can be considered one of the environments where the most dirt is produced, including metal shavings, dust, oils and emulsions.
Cleaning, however, is of the utmost importance in this case, both for workers' safety and the protection of machinery, tools and production: therefore, it is essential to use professional pressure washers, vacuum cleaners and Floor Care products in the industrial area.
From the largest metal engineering facility to the small metalworking shop, cleaning operations are as important as any other work phase, which is why they must be carried out in a short time and in an effective and continuous manner. You cannot think to do manually all the cleaning operations required in the metalworking sector, both in terms of quantity and variety - cleaning of floors and internal surfaces, cleaning of outdoor areas of the company, cleaning of machinery and tools, washing of company vehicles - and in terms of the amount of dirt produced.
This article will talk about all the advantages and explain some tips to make the best use of these products in the metalworking industry.
CHOOSING A PRESSURE WASHER
A professional pressure washer proves to be an ideal tool for effective, safe and quick cleaning, thanks to the cleaning action of high-pressure water and its ability to remove the greasiest and most difficult-to-remove materials, effortlessly and without having to address to specialized companies.
The pressure washer can be used for cleaning tanks and filters, as well as for removing grease and oil from surfaces.
In a workshop or an industrial plant, we recommend relying on a powerful pressure washer, built with a very solid frame and a metal casing that is more resistant than plastic ones. On the other hand, industrial areas allow moving without too many hindrances and the wheels mounted on the biggest machines allow moving comfortably even around the long perimeters of the largest sheds.
The most difficult dirt needs more pressure and where you have to "work hard" there is no time to waste: we suggest cleaning with maximum power on grease and oil and, where possible, use hot water. Some models of professional pressure washers, in fact, produce high-temperature pressurized water that dissolves oily dirt more easily than cold water.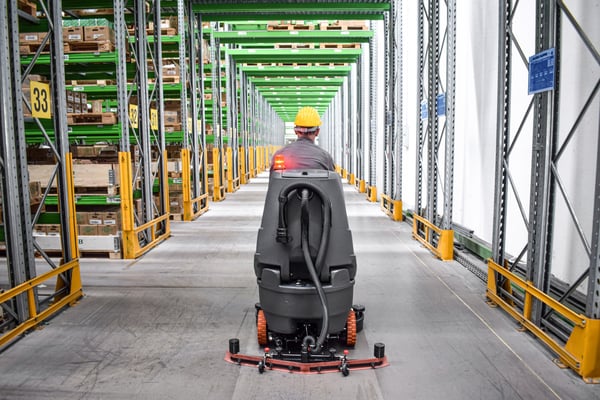 If you work in enclosed areas, you should opt for an electrically-powered pressure washer rather than one powered by an internal combustion, diesel or gasoline engine, which instead produces exhaust gases that are harmful to workers' health.
Using a professional pressure washer is very easy and the wide range of extensions, lances, brushes, nozzles and various accessories allows reaching even the most inconvenient places and cleaning effectively the surfaces without damaging them.
The pressurized water jet will remove dirt and waste, thus avoiding the use of spatulas, wire brushes, scrapers and other tools that may scratch and scuff machinery and products, even irreparably.
Obviously, the pressure washer must not be used in any way close to electrical or electronic equipment.
THE VACUUM CLEANER FOR LARGER WASTE
Where the amount of waste, both solid and liquid, becomes more important, an industrial vacuum cleaner is very useful. Metal dust and shavings, coarser waste, accumulated waste oils and acids are easier to remove with a traditional vacuum cleaner or liquid vacuum cleaner.
There are many models of vacuum cleaners, equipped with many practical accessories, and you can choose among the most suitable one for each professional sector, including the metal engineering one.
FLOOR SCRUBBER DRYERS AND SWEEPERS: FLOORS ALWAYS CLEAN
In a metalworking shop or facility, the floor is always covered with dirt and machining waste, because it is difficult to limit splatter, chips and debris within the workstation.
At the same time, it is impossible for the operator to interrupt their work to clean the floor continuously. However, this creates slippery and dangerous piles and layers of dirt on the floor that, if not removed, can cause falls and injuries.
For this reason, especially in larger facilities, it is very useful to use sweepers to remove dirt and scrubber dryers to thoroughly wash the floors.
For both machines, either ride-on or push models are available which allow cleaning without interrupting the production processes and which are convenient and fast even for thorough cleaning at the end of a shift.
With the help of these three tools, your metalworking shop will be oh-so clean.