The recent Covid-19 pandemic has focused everyone's attention on the hygiene of the spaces where we live and work every day.
As far as sanitization and hygiene are concerned, floor cleaning is crucial and the most reliable solution in the professional field is a floor scrubber dryer.
Floors, like handles, doors and switches, can be a source of bacteria and germs. They are, most likely, the surface most frequently exposed, especially in public places with high traffic such as stores or shopping malls, on which hundreds and hundreds of people walk daily.
A scrubber dryer, as its name suggests, is a machine created for the quick washing and drying of all floors, for indoor use (except for carpets, natural wood floors and raised floors), or for outdoor use made of non-abrasive materials and with regular surfaces.
Its main task is ordinary and repeated cleaning, because it washes the floor and immediately leaves it completely dry and sanitized, automatically and in a single operation.
Thanks to its special accessories and methods of use, it can also be used for extraordinary cleaning and maintenance.
HOW A FLOOR SCRUBBER DRYER WORKS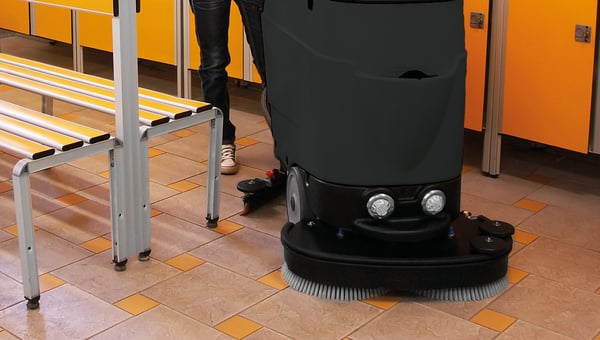 An automatic floor scrubber mainly consists of a washing casing and roller discs or brushes (one to four, depending on the model), and is powered by an electric motor connected to a socket by a cable or a battery.
The models mainly differ as to the way they are driven. The ride-on series is equipped with a seat to accommodate the operator and a steering wheel to drive the floor scrubber.
DISCOVER COMET RIDE-ON FLOOR SCRUBBER DRYERS
Walk behind models are also available and are driven from the back through special handles.
DISCOVER COMET WALK BEHIND FLOOR SCRUBBER DRYERS
The ride-on models, larger and more powerful, are more suitable for larger areas, while the walk behind more compact versions are better suited to small spaces and discontinuous operation.
In both cases, brushes or discs are sprayed with a solution of water and detergent while they rotate and clean the floor; a recovery and suction system for dirty water is immediately behind this washing system, provided with a rubber "floor wiper" blade facilitating the job and leaving no residue on the floor.
THE PLUSES OF A FLOOR SCRUBBER DRYER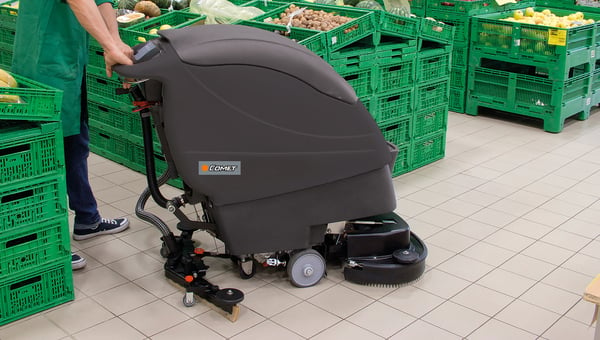 The most important plus of using a scrubber dryer is shortening by more than half the time spent by cleaning and sanitizing floors. This is an indispensable feature especially if you have to clean areas extending for several square meters which can't be closed to the public.
Let's imagine the trouble of cleaning a 30 meter long aisle of a production plant using just a bucket and mop, and waiting for it to air dry, in the middle of a shift, with the comings and goings of employees. With the floor scrubber dryer, on the other hand, the action of the brushes or discs is totally mechanized and it takes just one passage to wash and dry the entire floor in a very short time.
Another important advantage is safety, since the passage of the machine can take place without having to close the area and the floor can be immediately walkable, thus avoiding any dangerous slips and accidents.
A clear example is that of the aisles in supermarkets or shopping malls, which require repeated cleaning operations throughout the day: customers and floor scrubber dryers, in these cases, live together without any problems of safety or noise, thanks to the lack of noise of the most modern models.
The level of hygiene that can be achieved is also much higher than manual washing: with the rag, despite being squeezed, the operator uses the same water several times and this contributes to the spread of contaminants instead of destroying them.
The floor scrubber dryer, on the other hand, uses two separate tanks, one for clean water + chemical (detergent tank), one for the recovery of dirty water; this way only clean water with detergent will be used on the floor. Finally, the rotating brushes of the scrubber dryer have a cleaning power which is hundreds of times greater than that achievable by a man scrubbing the floor with a rag or a mop, thanks to the pressure and the number of revolutions of the brushes operating mechanically which are always clean on the floor.
The final result of automatic cleaning is more appreciable because the passage of the floor scrubber dryer, unlike manual washing, does not leave out any space and cleans tiles and joints without leaving marks or rings.
Finally, an automatic floor scrubber offers considerable savings in terms of water and detergent, with a significantly higher level of hygiene.
The scrubber dryer, in fact, maximizes the performance of water and detergent considerably: half a liter of solution is needed to wash 10 square meters of floor by hand, compared to 0.05 liters used with a floor
HOW TO CHOOSE YOUR FLOOR SCRUBBER DRYER
A floor scrubber is essential in the professional environment, whether you own a cleaning company operating in shops, schools, gyms, communities or restaurants, or whether you want to use it to clean your business, bar, restaurant, gym or office effectively, quickly and effortlessly.
The first thing to take into account before your purchase are the spaces you need to clean: if you need to wash narrow spaces such as the aisles of an office or the kitchens of a restaurant, choose a walk behind model which can access even in spaces of a few tens of centimeters.
If, on the other hand, you have to wash hundreds of square meters in a short time, e.g. a shopping mall, select a ride-on model and numerous brushes (large cleaning surface).
Depending on the surface to be covered, you can also choose between an electric motor connected with a cable or battery powered.
You can move around in a medium-sized room with a floor scrubber dryer connected to a socket, while the battery-powered solution is definitely the right one to move freely in a much larger area: almost all models currently offer battery packs capable of ensuring several hours of operation before having to stop the machine for charging.
The ease of use, on the other hand, does not affect the choice, as modern floor scrubbers are easy and, in many cases, intuitive to operate by simply pressing a button. While ensuring highly professional results, there is no need for training courses or special instructions: just read the instruction manual.