For professional floor cleaning and sanitizing, the most practical and effective tool is the floor scrubber dryer. For smaller areas, moreover, the best choice is a man-behind scrubber dryer.
A scrubber dryer, as its name implies, is a machine designed for the rapid scrubbing and drying of all indoor floors (except carpeting, natural wood parquet and floating floors) or outdoor floors made of non-abrasive materials with even surfaces.
Floors, in fact, are the surface most in contact with dirt every day, especially in high-traffic public places such as stores or shopping malls, where hundreds and hundreds of people walk on a daily basis. In addition to aesthetic reasons, frequently keeping floors clean is important to reduce the spread of bacteria and germs.
Here, then, the scrubber dryer is an indispensable and reliable tool for routine and repeated cleaning of spaces open to the public, since it washes the floor and leaves it soon completely dry and sanitized, automatically and in a single operation.
HOW A SCRUBBER DRYER WORKS
A scrubber dryer mainly consists of a scrubbing body and roller discs or brushes (one to four, depending on the model), and is powered by an electric motor connected to an outlet by means of a cable or battery. Brushes and discs are sprayed with a solution of water and detergent as they rotate and clean the floor; immediately behind this component, there is a collection and suction system that "sucks" the dirty water in, aided by a rubber squeegee that leaves no residue on the floor.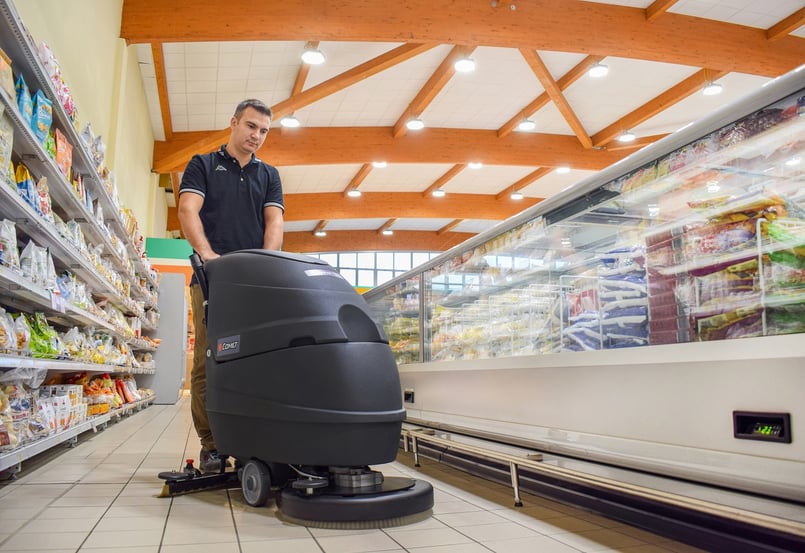 The most important plus of a scrubber dryer machine is to reduce the time spent washing floors by more than half compared to manual mopping with a broom and rag. This is an essential factor, especially if you have to clean areas of several square meters impossible to fence to the public.
In addition, the level of hygiene is significantly higher than traditional mopping: the mop, despite being wrung out, uses the same water several times and contributes to the spread of contaminants instead of destroying them. The scrubber dryer, on the other hand, uses a recirculation of water and detergent that can immediately remove the dirty component and spread only clean solutions onto the floor. Finally, the rotating brushes of the scrubber dryer have a cleaning power hundreds of times greater than those of a man scrubbing the floor with a rag or mop.
An equally important advantage is aesthetics, as the scrubber dryer, unlike hand mopping, does not leave out any space and cleans tiles and joints without stains or marks.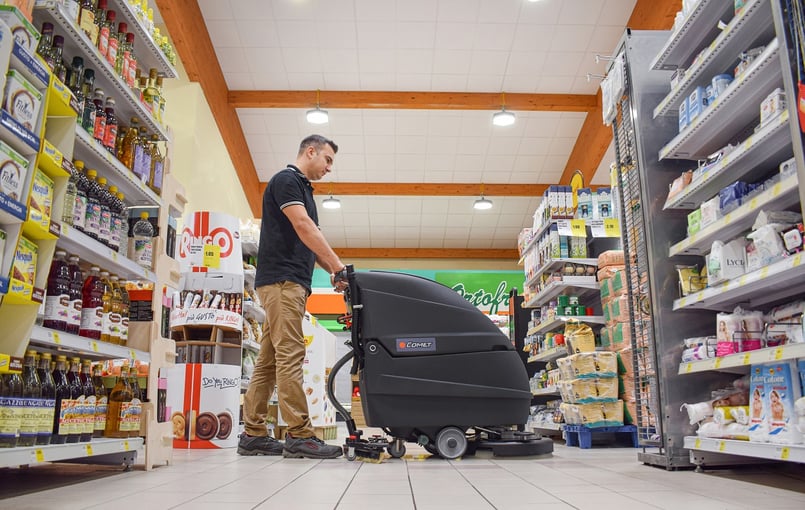 Another key benefit is safety, since the machinery can work without fencing the area involved and makes the floor immediately walkable, thus preventing dangerous slips and accidents. For example, in the aisles of supermarkets, customers and scrubber dryers coexist without any safety or noise problems, thanks to the quietness that the most modern models can boast.
Finally, an automatic floor scrubber offers significant water and detergent savings: the scrubber dryer, in fact, maximizes the yield of water and detergent - usable in a concentrated manner - with unparalleled comparison: it is estimated that half a liter of solution is needed to wash 10 square meters of floors by hand, compared to the 0.05 liters by a floor scrubber.
MAN-BEHIND OR RIDE-ON SCRUBBER DRYERS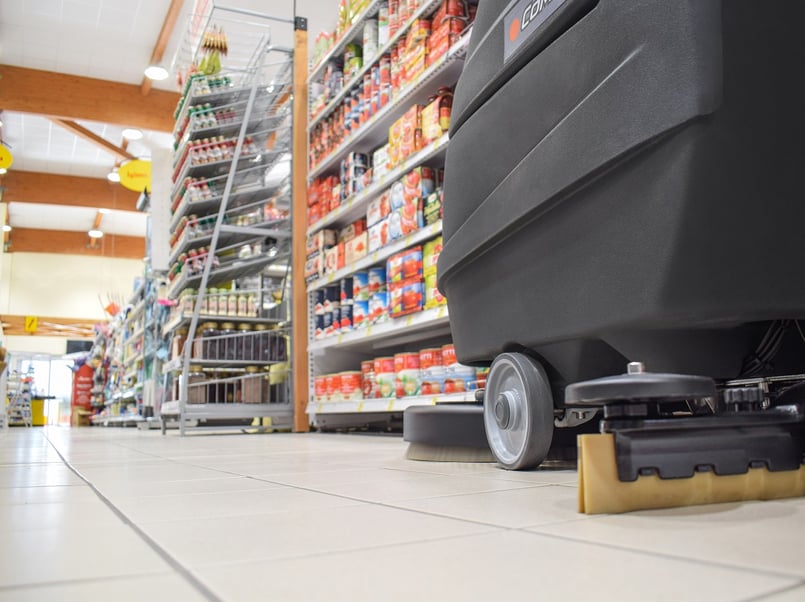 The scrubber dryer models differ, first of all, in the way they are run. There is the ride-on series, equipped with a seat for the operator and a steering wheel for driving the floor scrubber.
There are, then, man-behind models, which are driven from the rear through special handles.
The former, bigger and more powerful are better suited for larger areas, while the latter, more compact, are better suited for smaller spaces.
When choosing between the two types, the first assessment to be made is the space to be cleaned. For cleaning large square footage, it pays to choose a ride-on model; if you need instead to scrub small spaces or between narrow passageways, choose the man-behind models which are capable of fitting even a few tens of centimeters.
THE COMET CPS 50 MAN-BEHIND SCRUBBER DRYER
COMET CPS 50 is the ideal man-behind scrubber dryer for professional cleaning of small areas, up to 1,500 square meters: an extremely compact scrubber dryer that is particularly suitable for cleaning areas such as car showrooms, retail outlets, gyms and spas.
Among the main advantages, the COMET CPS 50 scrubber dryer features:
Control panel with operator's presence safety system
Battery charge indicator with progressive inhibitory action on brush/suction functions
Detergent solution filter and solenoid valve (battery models only)
Very easy accessibility of the battery compartment
Quick emptying system and inspectable recovery tank
Non-marking wheels
Shock- and acid-proof tanks made of rotational polyethylene
The lower tank also accommodates batteries
Quiet operation thanks to the protected position of the suction motor.
THE SCRUBBER DRYER'S MAINTENANCE
After choosing your scrubber dryer, you should soon realize that proper and frequent maintenance increases its efficiency and extends its life. Here, then, is a brief vade-mecum with timing and essential steps to be taken.
After each use, the recovery tank must be emptied of dirty water and waste liquid. In addition, the batteries need to be recharged, so that the machine is always ready and at full power.
Instead, the following operations should be done every week:
Disassembling and cleaning the detergent solution filter

Checking the brush up and down movements

Checking the squeegee up and down movements
The following operations, however, should be done every month:
Brush general cleaning

Hose cleaning using an anti-scale liquid

Checking the intake hoses and ducts for clogging and obstruction

Checking and cleaning the pivoting wheels

Checking the wear of the driving components