In the professional field, cleaning floors, surfaces and tools cannot be done without the use of a cold-water pressure washer. Especially in sectors such as agriculture and dairy production.
The action of the pressurized water jet projected by a professional pressure washer allows for the removal of any type of dirt, even the toughest ones such as mud and soil, which are scattered almost everywhere on a farm.
Stables, sheds, warehouses and yards of a livestock or fruit and vegetable farm, however, cannot afford to let dirt run rampant, as they are subject to so many regulations that set standards and obligations for food quality and cleanliness.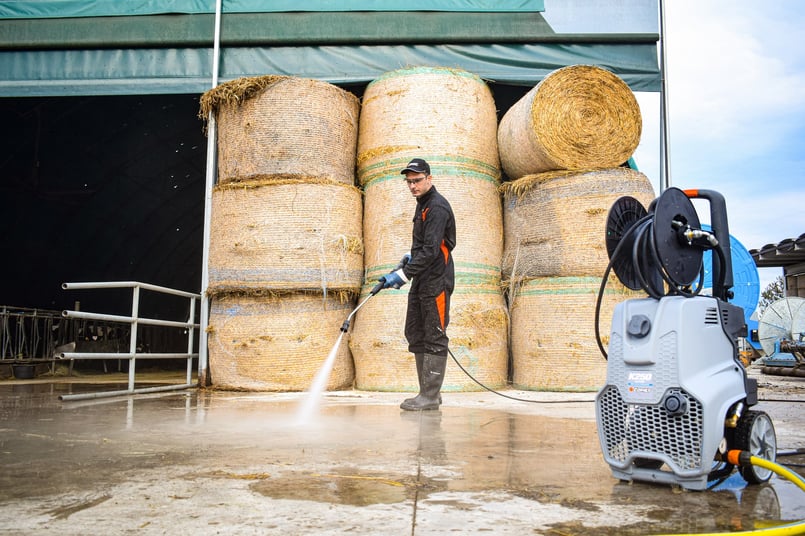 Those who work in these areas know that keeping stables, chicken coops, dairies and warehouses clean unfortunately involves long hours of labor and hard work if one relies on rakes, brooms and shovels to scrape, sweep and pick up the dirt produced by the countryside. That's why the cold-water pressure washer is the best solution to remove all kinds of dirt from any space, even the least reachable with traditional tools.
HOW THE COLD-WATER PRESSURE WASHER WORKS
Cold-water pressure washers mainly take advantage of water pressure, which is achieved through piston pumps powered by an electric or endothermic motor: the greater the power of the motor, the greater the pressure and the more effective the cleanliness achieved.
The use of top-performing nozzles and chemicals that help dissolve dirt and scale also contributes to a better result.
The main advantages of using a pressure washer are enormous if compared to the results that can be achieved with a mop and traditional water hose:
less time, less effort

and

deeper cleaning

, thanks to the pressure water jet;

water saving

up to 75%;

drastic reduction of the use of detergents, thus

safeguardingthe environment and ecology

.
COLD-WATER PRESSURE WASHERS FOR ANIMAL HUSBANDRY
For a breeder it's essential to keep pens and livestock shelters clean of droppings and feed debris, to avoid infection and proliferation of germs, bacteria and parasites.
Therefore, a cold-water pressure washer such as the COMET K 250 is great for:
clearing the collection lanes of large cattle shelters of liquid wastes, straw and excrement;
cleaning pigs stalls of the manure and mud they spread after razing outdoors;
quickly and easily cleaning sheep, goat or horse feeders of debris before refilling them;
sanitizing chick incubators and egg hatching areas on poultry farms.
The Comet K 250 cold-water pressure washer, moreover, is equally useful, quick and effective for easily removing mud and soil from yards, stable walls, greenhouses and warehouses and any other surface with just a few jets.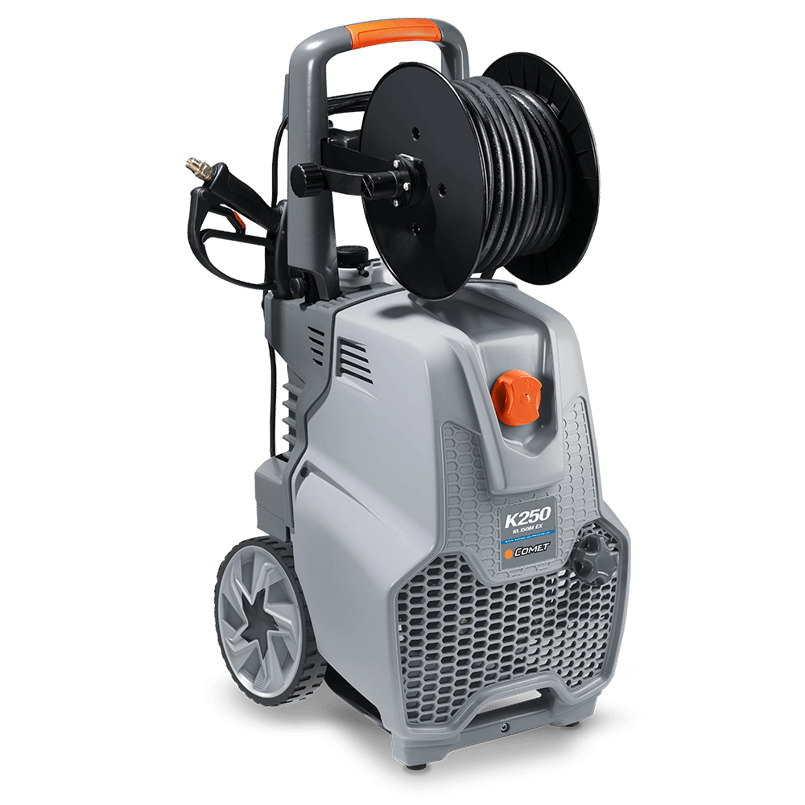 High-precision nozzles, hose reels and lances make work easier and allow for the removal of dirt that seeps into even the smallest spaces, thus enabling easy and frequent cleaning of machinery and equipment.
Finally, cold-water pressure washers, using specific foaming and alkaline detergents, easily dissolve grease and oil from engines and gears of agricultural vehicles and implements in a short time.
COLD-WATER PRESSURE WASHERS FOR DAIRIES AND CHEESE FACTORIES
Livestock farms devoted to dairy production are more concerned with hygiene and cleanliness.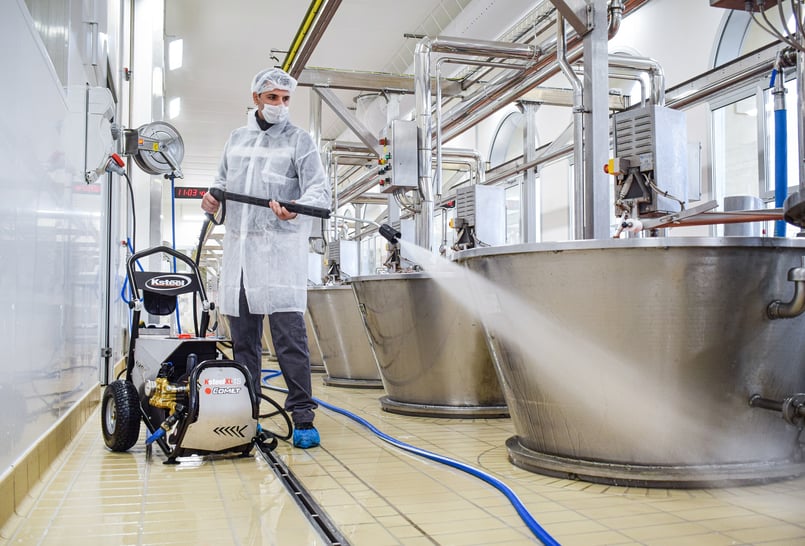 Especially in intensive livestock farms, speed in operations is critical, for example, to be able to milk hundreds of animals each day without slowing the production of milk to be processed into cheese and other dairy products. Only a professional pressure washer such as the Comet K STEEL XL TS, therefore, can thoroughly clean every nook and cranny of milking parlors in a very short time and with little manpower.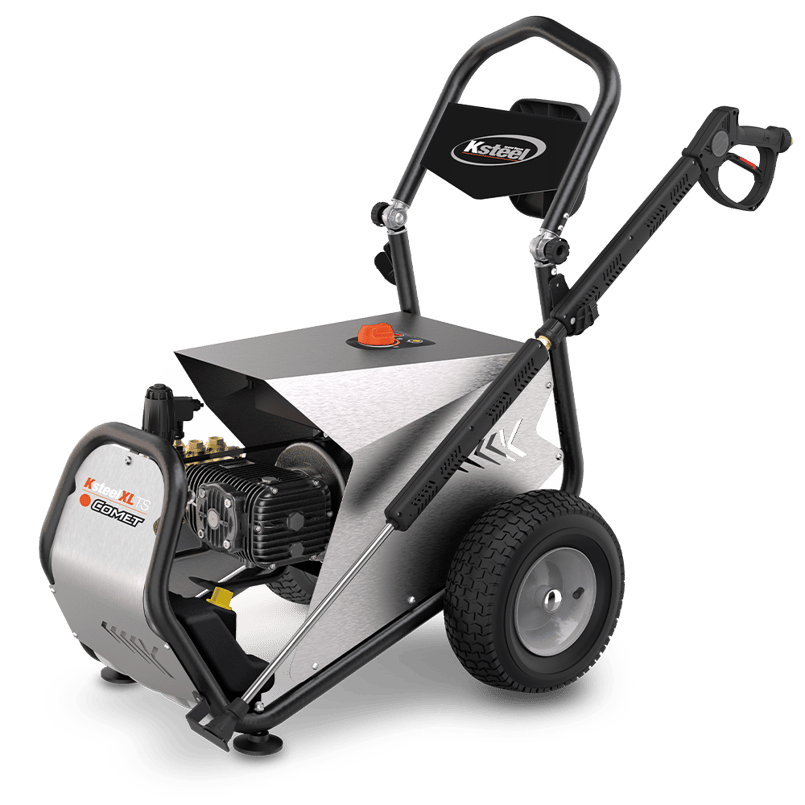 Equally useful is the use of the cold-water pressure washer in dairy production laboratories, those environments where milk is collected and processed: these must be completely sterile to maintain the high quality of the product and to offer a guarantee of safety to consumers. In these areas, hot water up to 60°C is used to ensure a higher level of cleanliness, which is why our K Steel XL is the ideal machine since it is equipped as standard with a motor pump with seals resistant to water at high temperatures, thus avoiding, as far as possible, the use of chemical detergents.