Matt the Farmer is a true influencer for gardening, vegetable garden, forest and farming enthusiasts. In one of his famous videos, he tested the power of the Comet K200 cold water pressure washer.
Matt the Farmer, born Matteo Fiocco, is called the "digital farmer". In his early thirties, he set up a farm in the province of Brescia, in Cellatica, Franciacorta. A self-taught farmer, he has been posting his video tutorials on social media for a few years now, enjoying huge success on Youtube: over 320,000 followers and more than 40 million views.
An influencer who mainly specializes in equipment testing: including professional pressure washers.
IIn a video that has nearly 63,000 views, in fact, he tested and gave his impressions of the Comet K200 cold water pressure washer
Amazed by the power of the pressure washer even upon its unboxing, Matt is thrilled with the professional look of the pressure washer, its sturdy materials, large detergent tank and many accessories in the package.
Even before "getting into it" with the "unheard-of power", Matt is pleasantly impressed with the ubiquity of available service centres, accurately listed inside the packaging.
WASHING A PICKUP TRUCK WITH A COLD WATER PRESSURE WASHER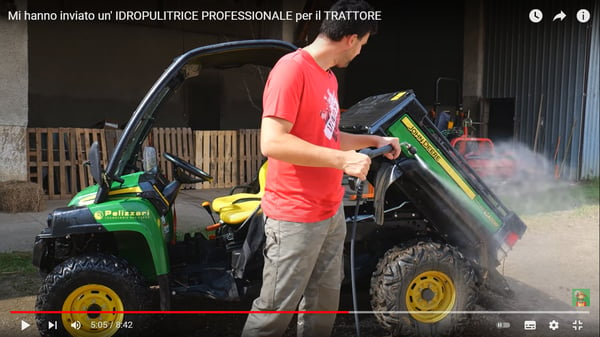 The first test performed is washing a small pickup truck completely covered in mud: Matt comfortably moves the pressure washer across the gravel yard, thanks to its large wheels, and sets it down in a horizontal position, adjusts the pressure appropriately "so as not to remove the paint", connects the water hose and kicks off the washing.
Thanks to its practical lance, in just a few minutes he can remove mud and soil from the windscreen, dump body and bodywork, reaching even the most awkward spaces between the wheel axles and under the dump body without any problem.
By adjusting the width and strength of the jet by operating the nozzle, it also sweeps away residues of branches, straw and grass from the interior. Then, by applying the rotating lance provided, it removes even the hardest clay encrustations from the auger with optimal results.
WASHING A TRACTOR WITH A COLD WATER PRESSURE WASHER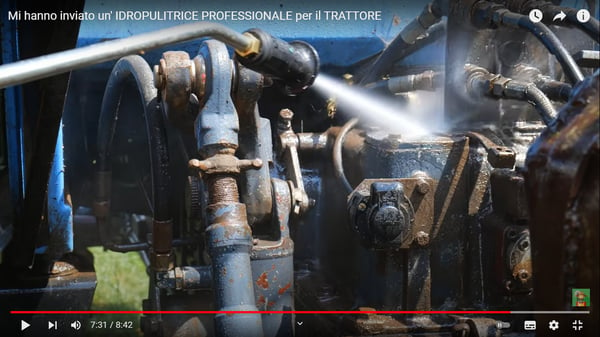 The second test is carried out on a large tractor that "hasn't been washed since the '60s", connected to a huge turbine for irrigating wheat, so dirty that you can't even tell what colour it is anymore.
Housings, platform, wheels, wheel wells and cardan body "filthy with grease" are completely cleaned, in a few minutes, by the "awesome power" of the Comet K200 cold water pressure washer.
Matt the Farmer's opinion of the Comet K200 professional pressure washer is unequivocal: "It's a blast: I love it!".