With the Covid-19 emergency, we have all become much more careful about cleaning, disinfection and sanitization.
But do we really know the meaning of these terms, and what's the difference between disinfect and sanitize? Here are some answers and some tips on how a pressure washer can speed up the now indispensable operations of disinfection and sanitization both at home and at work.
Cleaning, disinfection and sanitization, that's the difference.
Cleaning
Cleaning basically means removing dust, dirt and foreign bodies from a surface, object or environment.
The chemicals that help to remove dirt are cleaning agents.
Disinfection
Disinfection is an operation designed to destroy pathogenic microorganisms. The elimination of germs and bacteria can be obtained through biocides, chemical agents authorized by the Ministry of Health that contain disinfectant active ingredients (such as chlorine, alcohol, ammonia, hydrogen peroxide, etc.), or through physical agents such as heat, or its opposite, low temperatures (think of the food blast chiller).
Sterilization, on the other hand, is the elimination of all microorganisms, both pathogenic and non-pathogenic.
Sanitization
Sanitization is a more complex process that must guarantee the healthiness of an environment.
The environment must, therefore, be healthy and disinfected, but not necessarily clean.
Hygienisation
Hygienisation is linked to the concept of disinfection and cleaning limited to an object or part of the whole.
For example, if we refer to a structure with more than one room, we can say that we have to carry out hygienisation of a specific room, not of a large environment such as a shed, but a closet, a machine, a room, etc..
Sanitize with a home pressure washer
Is it possible to sanitize an outdoor environment with a pressure washer rather than relying on expensive specific machinery or the service of a professional?
The answer is yes, but with the appropriate precautions.
Given the great versatility of a pressure washer, it is also possible to use it to sanitize by mixing sanitizers with pressurized water.
However, it is advisable to bear in mind that most sanitizers are based on chlorine, an element that is particularly aggressive with the materials of which the pump of a common pressure washer is made.
Therefore, even if you have a cold water pressure washer with a built-in detergent tank, we strongly recommend that you keep it empty and use a foam lance in order to mix the sanitizer only after the water has been pressurized while preventing the additive liquid from passing through the pump.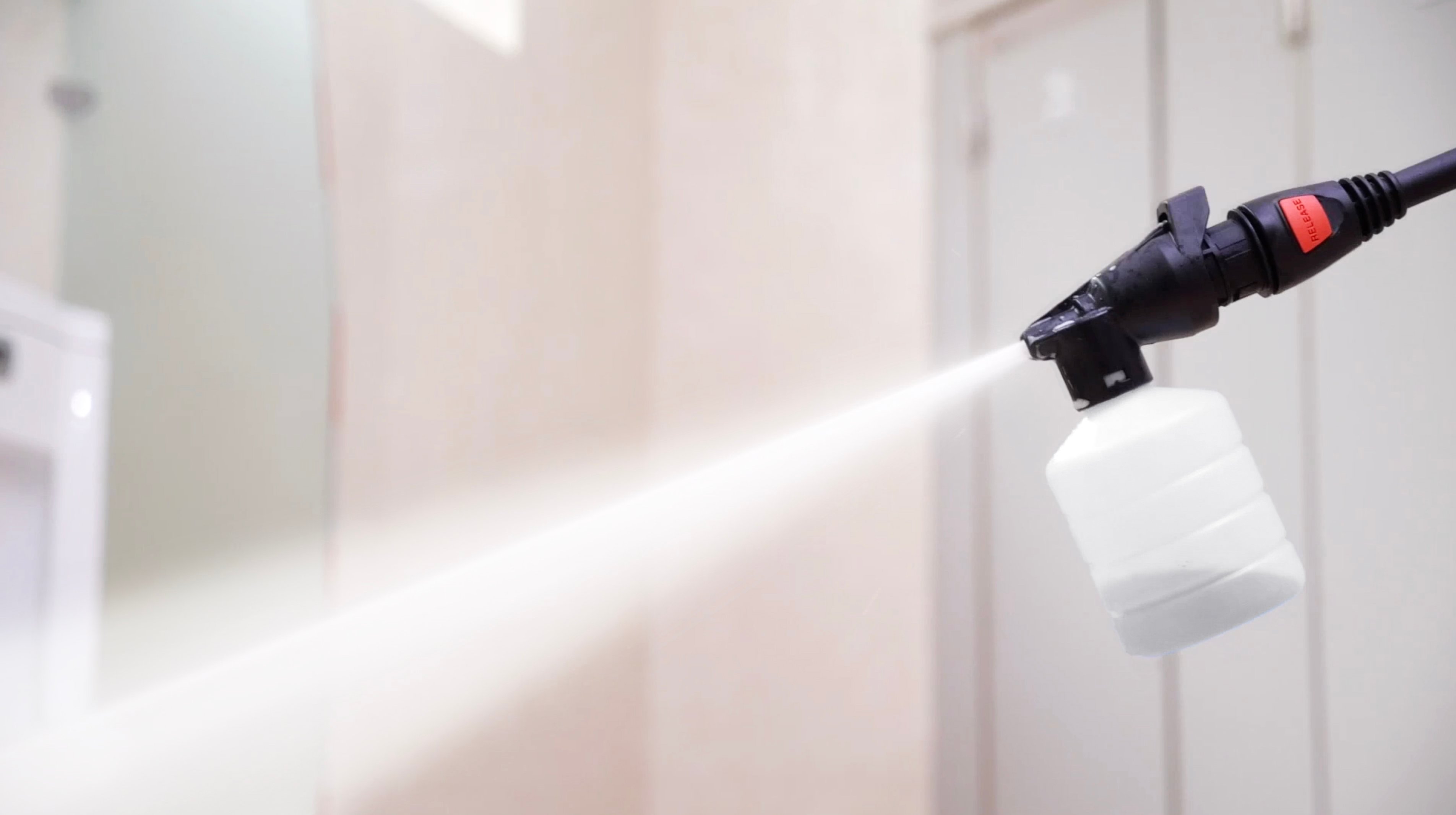 The entire range of Comet cold water pressure washers allows the use of this type of lance, even those with built-in detergent tank.
For some models, such as e.g. the KL 1680 Gold Plus , the foam lance is included in the standard accessory kit.
These lances are equipped with a container for dispensing detergents or sanitizers. The disinfectant is mixed with the already pressurized water by means of the "Venturi" system and generates a dense and effective foam.
The foam lance can be purchased separately and applied to any Comet pressure washer.
To disinfect surfaces and objects that we use in the yard or on the terrace just fill the tank with a disinfectant detergent, high pressure will do the rest and our outdoor areas will be cleaned and sanitized in a very short time and with very little effort.

Sanitize with a hot water pressure washer
If you need to sanitize large environments such as laboratories or commercial activities, here are the tools for this purpose (we recommend you to refer to our dedicated products such as sprayers, trolleys and wheelbarrows, combustion or battery and our steam generators).
If you need to sanitize large external surfaces, hot water pressure washers are definitely the best solution, because they combine high temperatures with the power of chemical sanitizers through the use of foam lances.
The Comet Red Series offers professional and semi-professional models for any flow rate, pressure and temperature requirements.
The jets of these pressure washers can reach even 110 degrees with 210 bar pressure for a really deep sanitization of any surface and the removal of greasy dirt and grease, which is excellent for mechanical workshops, food and wine industries.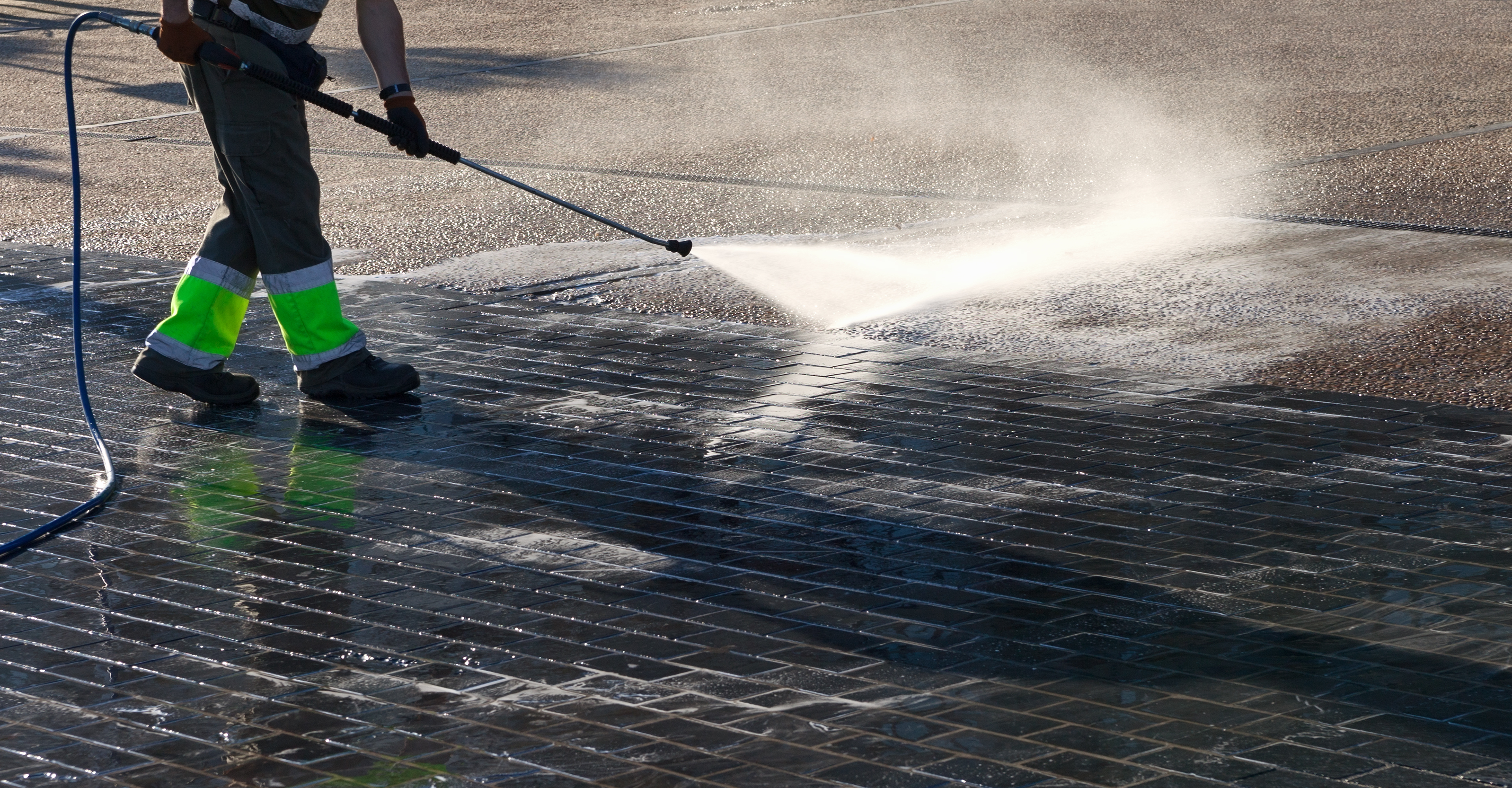 Sanitize with steam
Some of our pressure washers, both electric (KM Extra, KF Extra) and petrol (FDX Hot Cube) offer the opportunity to thoroughly sanitize an environment in a completely ecological and professional way, thanks to the sanitizing power of steam. The 140° steam jet emitted by the machine is able to kill 99% of germs, bacteria and viruses without the use of chemical additives.
These pressure washers are the top of the range in terms of cleaning and sanitizing and are designed for companies and professionals in the sector.

Sanitize places without electricity
If we often have to sanitize in a professional way and the places to be treated are located far from a power outlet, think of public parks with children's playgrounds and benches, bus shelters, factory yards, monuments, all the places that are frequented outdoors by many people, how to effectively sanitize everything?
To sanitize in a professional way it is necessary to use hot water or steam pressure washers, and there are models with endothermic or "combustion" engine.
They are completely autonomous and easily transportable machines and can be powered by petrol or diesel. One example is the Comet X SERIES with different models and a wide range of performance.

Versatility of both home and professional pressure washers
A pressure washer, both home and professional, is always an excellent investment because it is a very versatile machine with which you can meet different needs both at home and work.
The applications of pressure washers are many and even in the Coronavirus emergency we have seen how those who already had one were able to use it immediately to sanitize outdoor environments both at work and home.