In the cleaning field, efficiency, speed and savings are the fundamental cornerstones to obtain good results, so it is important to know what the best machines are for the cleaning companies.
Mops, brooms and dusters are now prehistoric tools for those who make cleaning a high-level profession. Nowadays, especially for the facilities open to the public, such as schools, hotels, restaurants, health and community facilities, cleanliness is an essential requirement capable of heavily affecting the reputation of a cleaning company: just think of how damaging is a negative review left on the internet by a customer who found a hotel room or a restaurant bathroom dirty.
Similarly, it is important when and how cleaning takes place: nowadays it is a must to clean very frequently and without getting in the way or disturbing customers and people around. This affects the times and costs of the cleaning job, therefore the tools used for cleaning are of paramount importance.
Comet responds to all these requirements with a wide range of machines dedicated to the professional cleaning of floors and surfaces, of high quality and extreme reliability. Floor scrubber driers, sweepers, vacuum cleaners and steam generators: these machines and equipment are designed for maximum cleaning and hygiene as well as maximum savings in terms of effort and costs, in full compliance with the operators' safety.
FLOOR SCRUBBER DRIERS
The best machine for the professional washing of floors, of any kind and material (ceramic, porcelain gres, marble, concrete, resilient materials, etc.), especially those extended over large areas, is the scrubber dryer.
This is a machine capable of operating on any type of indoor surface and with any condition of dirt, quickly and accurately, thus ensuring work areas to be immediately and perfectly dry and safe.
Its operation is based on the cleaning and abrasive action of rotating brushes, through which a detergent solution is injected: dirt, dissolved in water, is then collected by a squeegee and sucked in by a turbine into a special tank, leaving the floor dry and clean.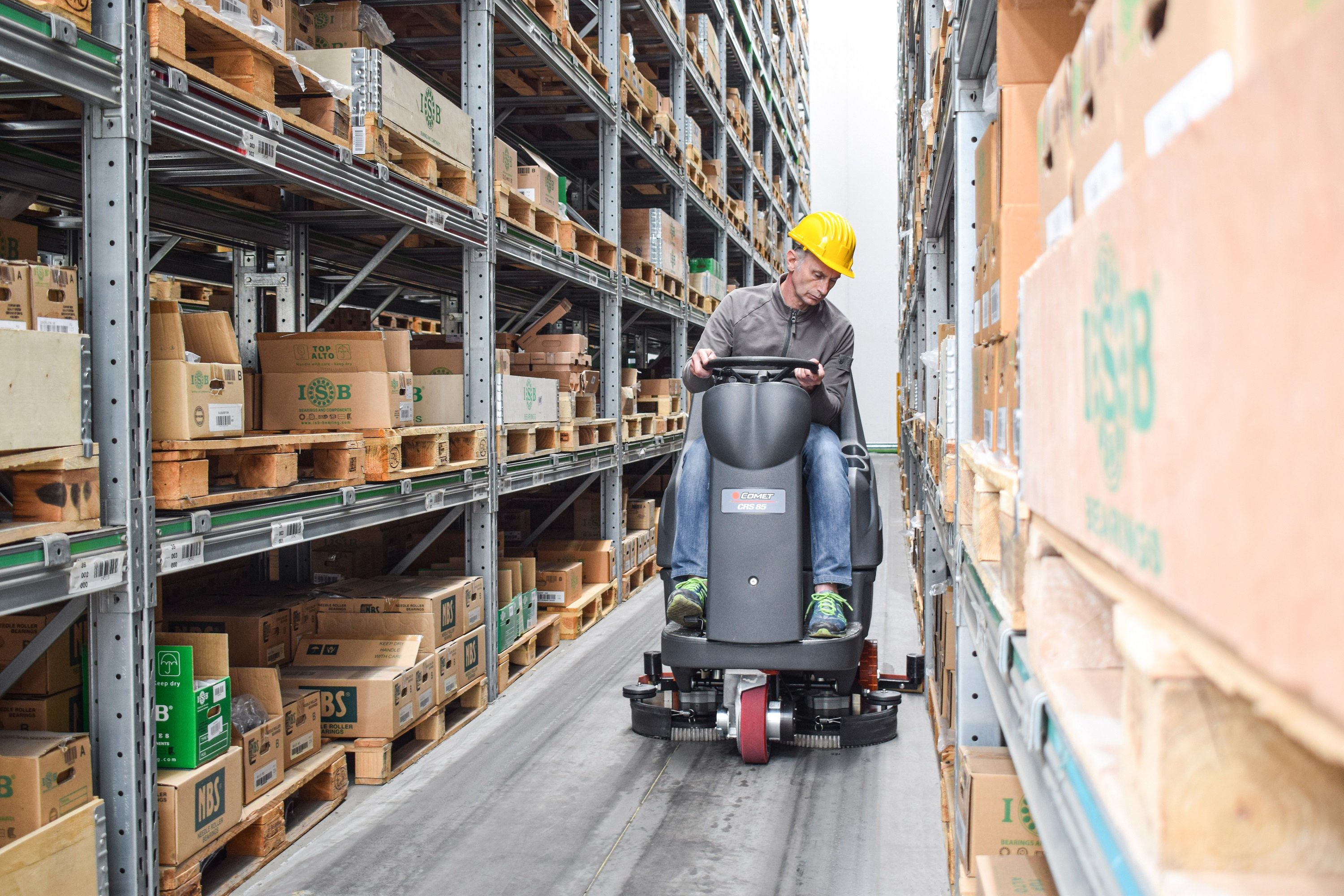 The scrubber driers are divided into:
push series, driven by the operator by means of a rear handle; they are suitable for small spaces such as offices, restaurants, stores, schools, theaters, bars and rooms up to 500 square meters;
ride-on series, equipped with a seat and steering for driving like any vehicle; they are powerful and suitable for warehouses, car showrooms, airports, shopping malls and large areas up to 12,000 square meters.
Compared to traditional cleaning, they allow a reduction in work time of more than 50%, the possibility of operating without fencing the area and an exponential savings in terms of water and detergent.
SWEEPERS
The sweeper is the most suitable machine if you need to collect coarse dirt and dust from surfaces such as parking lots, courts, driveways and large warehouses.
It is equipped with one or two side brushes that convey the dirt towards a central roller brush loading the removed material into a special container, thus eliminating any effort for manual sweeping and reducing the work time and the traditional dispersion of dust occurring with a broom and dustpan.
As with floor scrubber driers, sweepers are also divided into:
push series, compact and agile, suitable for small rooms and in the presence of obstacles;
ride-on series, powerful and fast, capable of high performance on very large surfaces.
In order to reduce work times as much as possible compared to traditional cleaning, when choosing a sweeper it is essential, therefore, to consider the size of the work area. This can also determine the choice of machine's power supply: if you have to operate only in open spaces, then a model with an internal combustion engine is advisable, on the contrary, if it has to be used both indoors and outdoors, battery-powered models are recommended. In fact, the use of internal combustion engines in closed areas is forbidden.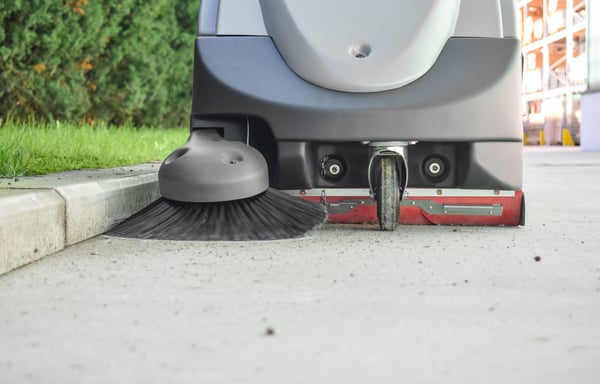 VACUUM CLEANERS
A vacuum cleaner is used to clean up furniture, floors and work areas from debris, liquids and processing residues quickly and professionally.
The choice mainly depends on the type of waste to be sucked in:
dust vacuum cleaner
wet vacuum cleaner
ash vacuum cleaner
fitted-carpet washer
This division, therefore, reflects the types of dirt to be removed and/or the surface area involved. Each corresponds to a different function, but sometimes some models include more than one function, thus increasing the flexibility of the machine.
LEARN MORE → PROFESSIONAL VACUUM CLEANERS: FOR AN ALWAYS CLEAN AND HEALTHY WORK STATION
STEAM GENERATORS
As well as removing dust and dirt, surfaces can also be sanitized where required by certain quality standards (such as in bars, restaurants, canteens and public services) or by health and hygiene regulations: in these cases the steam generator is used.
This is a device capable of transforming water into steam up to 180° at constant pressure, to clean thoroughly, degrease and sanitize all the surfaces resistant to water and high temperatures, in a short time, without effort or polluting detergents.
LEARN MORE → THE PROFESSIONAL STEAM GENERATOR: UNEQUALLED CLEANING AND SANITIZING
Now that you get acquainted with all the tools of the trade, working in the cleaning field will no longer be a feat: choose the most suitable machinery for your company and have a good job!