The production of food requires, more than any other sector, a very high level of cleanliness. In addition to the quality of products, maintaining hygiene is also necessary to avoid fines and penalties: this is why the use of pressure washers and steam generators in the food industry is increasingly recommended.
From the small laboratory to the large plant, to obtain flawless cleaning quickly and effortless, these machines are the most suitable tool, as they allow the cleaning and disinfection of machinery, tanks, floors, surfaces and environments where contaminable foodstuff such as meat, milk, wine, fruit, vegetables, flour and cereals are processed.
Daily cleaning allows enormous savings in time and money, eliminating downtime due to breakdowns and extraordinary maintenance jobs, increasing safety levels and well-being in the working environment, as well as product quality and production output.
In this article we will find out all the pluses and we will explain some tips for the best use of professional pressure washers and steam generators in the food industry.
THE PRESSURE WASHER FOR THE DAIRY INDUSTRY
Starting from some preliminary considerations, the pressure washer has to be chosen according to the environment where it is used. You can choose, in fact, between cold water pressure washers and pressure washers capable of producing hot water. To fight against the formation of bacteria, germs and other organic impurities, hot water is more suitable, but these models, if used in closed places, require the fume extractor.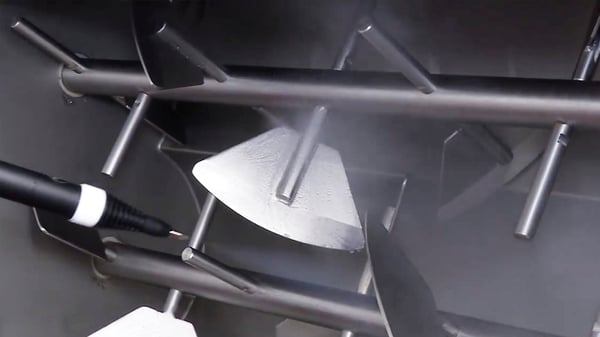 Cleaning, hygiene and disinfection are even more important in the dairy industry, where the environments and equipment used must be washed perfectly and very frequently in order to comply with strict regulations and reference standards. Even more so in this sector, a professional pressure washer is essential to save time and money, as well as the most suitable tool for a wash that ensures the inactivation of bacteria on surfaces and the removal of dirt and mold from the machining waste.
The water high pressure sprayed with the pressure washer, in fact, slows down and eliminates the proliferation of microorganisms and parasites that would compromise the healthiness and quality of milk, dairy products and other by-products. The processing of milk can produce two types of dirt, organic and inorganic. The organic part concerns fats, proteins and sugars, while the inorganic one concerns limestone and other minerals contained in milk: both components, however, must be removed effectively and daily, wherever they are deposited.
To operate on a larger environment, such as a milking area, you can use a high power pressure washer, while to move easily between the workbenches of a laboratory you can opt for a more comfortable pressure washer with small dimensions.
THE PRESSURE WASHER FOR SLAUGHTERHOUSES AND BUTCHERIES
Meat processing also requires a high standard of cleaning and disinfection of laboratories and equipment. The same indications already reported for dairy products apply, but in this case the strength of high pressure water can also be useful to remove solid residues from surfaces and equipment, which cause impurities and wear.
With the pressure washer you can clean meat processing equipment saving time and creating a safer working environment.
STEAM FOR CLEANING IN THE FOOD INDUSTRY
When deep cleaning alone is not enough, you can intervene with special machines that produce steam.
The high temperature emitted by the steam jet - up to 185° - kills at the first passage the microorganisms contained in the organic residues of food waste (unable to survive beyond 75°), thus reaching even the interstices where water does not arrive or where it would cause damage, such as electrical parts, motors, etc..
At the same time, the steam eliminates allergens and lowers the bacterial load on work surfaces, removing that special bio-film (mainly related to fatty and oily residues) that also resists foams and detergents.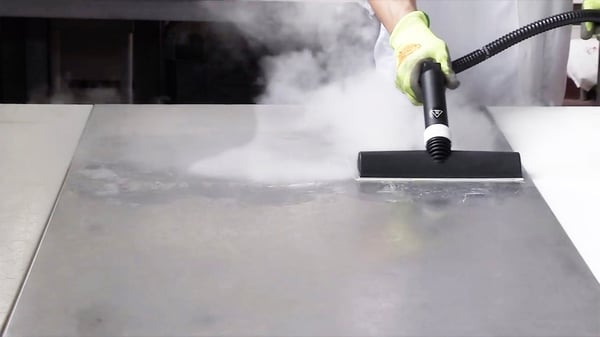 A steam generator also further reduces downtime, as clean surfaces and equipment are immediately dry and ready for new use. Besides working time, it also saves water by reducing water usage and disposal by up to 90%. Finally, it reaches 95% for the saving of detergents and other chemical agents.
There are various steam generators, distinguishable for the production of saturated steam, dry saturated steam and wet saturated steam: the lower the humidity produced, the greater the capacity to reduce the dirt around the area being cleaned, thus reducing cross contamination.
For further information on steam generators, please read this article: