When the cold season is approaching, we start to think about heating the house which, in some cases, can be done through fireplaces or pellet stoves. However, these systems generate ash and dirt, which must be properly removed. This is why we start to think about using an ash vacuum cleaner to clean the house.
In the workplace, vacuum cleaners are very useful for removing dust or small solid waste, while a wet vacuum cleaner is the quickest and most effective way to clean liquids from floors and surfaces. Similarly, an ash vacuum cleaner becomes indispensable if we have a fireplace or stove in our house.
HOW TO KEEP YOUR FIREPLACE CLEAN WITH AN ASH VACUUM CLEANER
Central heating systems, radiators, fan coils or underfloor heating are, of course, much more modern and effective heating systems; but, without any doubt, the fire of the fireplace is more romantic and fascinating than any other architectural element.
It brings to mind the warmth of a family reunited or moments of tenderness in a couple that a radiator can never grant. On the embers of the fireplace or with its flame, moreover, you can cook and not give up, even in winter, cheerful and tasty barbecues with friends. The spread of modern heating fireplaces, finally, has contributed in recent years to a rediscovery of what is considered by someone an obsolete method of heating interiors.
It is however undeniable that a wood-burning fireplace produces much more dirt and, in order to guarantee correct operation, requires continuous cleaning during normal winter use and extraordinary maintenance operations at the beginning and at the end of the season. The brazier chamber must always be cleaned of ashes, so that dust does not disperse and spread bad smells in the room. The flue and chimney should also always be kept free of dirt and capable of providing an excellent draught of smoke, so as not to run into blockages and dangerous accidents.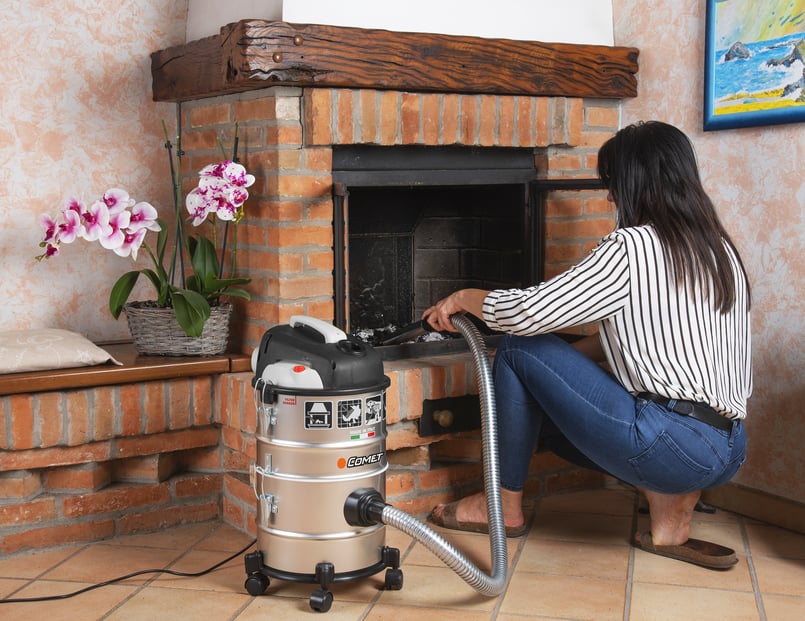 The most traditional and simple cleaning tools are the broom and the dustpan, uncomfortable to use and of limited effectiveness. This is why laziness pushes us not to remove, as we should, ashes from the fireplace every time we burn wood. The best solution is to have an ash vacuum cleaner which, without any effort, removes everything without raising dust in the air and, consequently, making it even dirtier.
Unlike the classic vacuum cleaner, the ash vacuum cleaner is equipped with a flexible metal hose that makes it suitable and compliant with regulations and with special filters that, in addition to protecting the internal parts of the machine from dangerous clogging, completely retain the ash - much finer than normal dust - and prevent it from escaping together with the air released after filtering. Correct maintenance and cleaning of the filters using the special shaker supplied with some models of ash vacuum cleaners, or by shaking or blowing them with a compressor, or even washing them in the case of washable cartridge filters (taking care to let them dry for at least 24 hours before reassembling them), allow the ash vacuum cleaner to have excellent performance and extend its life.
The ash vacuum cleaner is also very convenient for removing ashes from the walls of the combustion chamber and, in the case of heating fireplaces, from the protective glass. Unlike brooms and dustpans, in fact, the cleaning operations can also be carried out on vertical surfaces without causing falls and dispersion of material, thus avoiding double work. Furthermore, special accessories facilitate cleaning between the gaps that form, for example, between wall bricks or in corners that are difficult to reach.
SOME TIPS FOR CLEANING YOUR FIREPLACE
The best ash vacuum cleaners on the market are made of durable materials but, obviously, you can't use these machines to remove burning, glowing debris or even just not-quite-cold ash that may be hiding live embers inside.
If pieces of wood or coarse carbon are left over from combustion, they must be removed with pliers and thrown away manually. This is an essential precaution to prevent the ash vacuum nozzle from being clogged by debris of medium size, thus jeopardizing proper cleaning.
At this point, you can turn on your ash vacuum cleaner and clean the walls and base of the fireplace in no time at all, without damaging and struggling to brush the surfaces, or loading and unloading dozens of dustpans and risking dropping dirt on the ground, reaching the furthest corners without problems thanks to special extensions.
CLEANING YOUR STOVE WITH AN ASH VACUUM CLEANER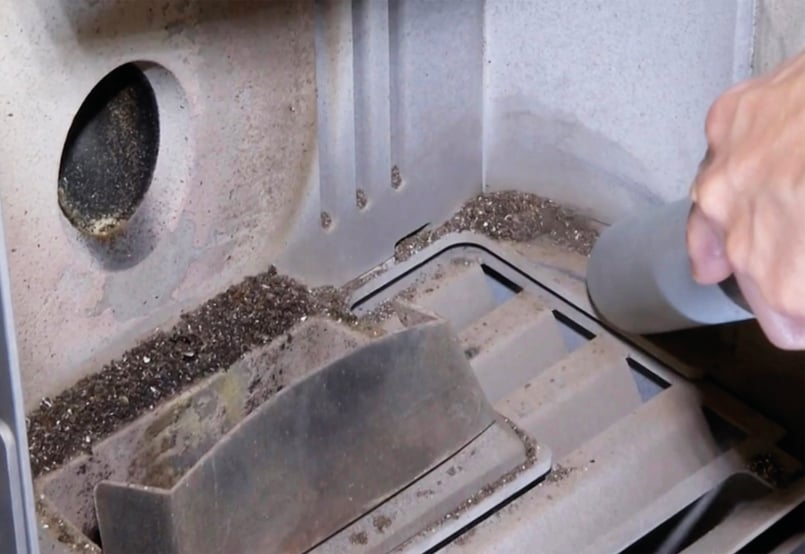 As with a fireplace, using a pellet stove involves assiduous cleaning and maintenance. The ashes that accumulate must be removed periodically to keep the stove efficient and safe. Even more so than for the fireplace, the ash vacuum cleaner is effective and convenient compared to traditional tools, as it has to operate in small spaces and on the various parts that make up a stove.
The use of an ash vacuum cleaner makes it possible to thoroughly clean the brazier, the ash tray and the pellet drop channel, as well as semi-hidden edges and corners inside the combustion chamber.
Less frequently, on the other hand, the ash duct and the flue need to be cleaned, for which, however, it is essential to rely on a qualified technician who complies with the regulations.
YOUR ASH VACUUM CLEANER IN THE SUMMER PERIOD
The use of an ash vacuum cleaner is not only limited to the winter period, but can also be used frequently in spring and summer to clean up barbecues, both portable and masonry, after a barbecue with friends.
Some ash vacuum cleaners also have a blower function, which allows the opposite effect of reviving embers or helping fire to ignite.