Cleaning small businesses and the Ho.re.ca. sector requires equipment that is agile, convenient and quick to use: Comet has created a line of machinery dedicated specifically to small stores.
Sweeping dust and removing garbage, washing and drying floors, sanitizing surfaces: these are all tasks that shopkeepers have to perform every day, even several times a day. To avoid the hassle and time-consuming task of doing all the work by hand, they may rely on vacuum cleaners, sweepers, scrubber dryers and steam generators; but the rather small size of stores and premises does not always allow for using overly bulky machinery.
That's why Comet has designed a specific line that includes all the best solutions for daily cleaning and sanitizing for the Ho.re.ca. sector and small businesses.
A range of home and semi-professional cleaning machinery for quick and thorough cleaning of stores, cafés, restaurants, offices, kitchens, gyms and other small businesses.
THE PLUSES OF THE SMALL BUSINESS RANGE
Comet's range dedicated to small business cleaning consists of a sweeper, a vacuum cleaner, a scrubber dryer and a steam generator with vacuum function, all sharing the same benefits for those who use them:
easy to use;
quick and effective cleaning;
small dimensions;
Let's look in detail at all the machines in the Comet Small Business range.
SWEEPER FOR SMALL BUSINESSES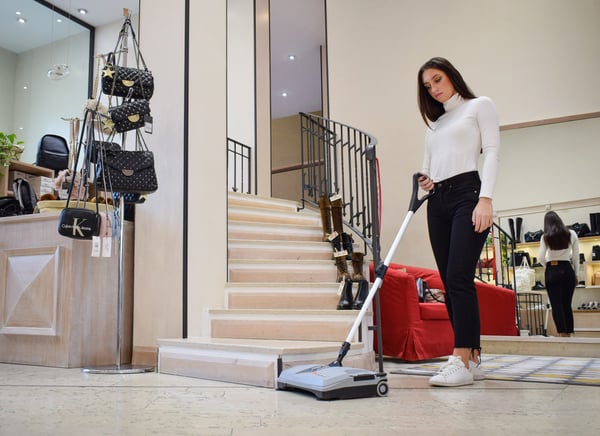 The CSW 375 B sweeper is ideal for cleaning all surfaces, both indoor and outdoor. A quiet, practical and cordless machine thanks to the standard 10.8 V/1.5 Ah lithium-ion battery power supply.
The battery lasts about 90 minutes, but the sweeper has a second battery included, as well as a quick charger that recharges the battery in just 70 minutes.
Switching on and off is facilitated by a large foot-operated switch, while the adjustable aluminum telescoping handle allows comfortably reaching even the least accessible places without squirming.
The rubberized wheels leave no marks on the floor, while the capacious collection drawer has a capacity of 2 liters. At the same time, however, it can move anywhere, thanks to a working width of only 37 centimeters, and can pick up objects up to a width of 24 centimeters and a diameter of 20 millimeters.
VACUUM CLEANER FOR SMALL BUSINESSES
The CVP 112 QUIET vacuum cleaner is equipped with an ultra-quiet high-efficiency single-stage motor that emits just 76 decibels.
It consists of a shockproof polypropylene body with an impressive 12-liter capacity.
Its anti-tip structure has a built-in accessory holder, cloth filter, rotary switch and paper bag filter.
The power cord reaches 7.5 meters, while the accessories have a diameter of 35 millimeters.
Its quietness allows it to be operated at any time of the day, without causing any discomfort to the customers present, for example, in a store or in another hotel room.
FLOOR SCRUBBER DRYER FOR SMALL BUSINESSES
The CPS 35 BX-Li scrubber dryer is the ideal machine for cleaning floors in small environments such as: stores, offices, kitchens, cafés, gyms, restaurants, etc.
This machine washes and dries in just one sweep, quickly and effectively, saving the operator time and effort.
The flow of detergent is adjustable according to the type of dirt and floor, thanks to an automatic start-stop system controlled by a solenoid valve.
It is equipped with 12V lithium-ion batteries, quick brush release system, removable recovery tank, squeegee lifting lever, folding handle with control panel, semi-circular rotating squeegee, folding handlebar and brush head with automatic fastening, among other features.
Wireless power supply, compact design, height-adjustable handle, front LED lights and foot-operated switches make it an extremely user-friendly machine.
STEAM GENERATOR FOR SMALL BUSINESSES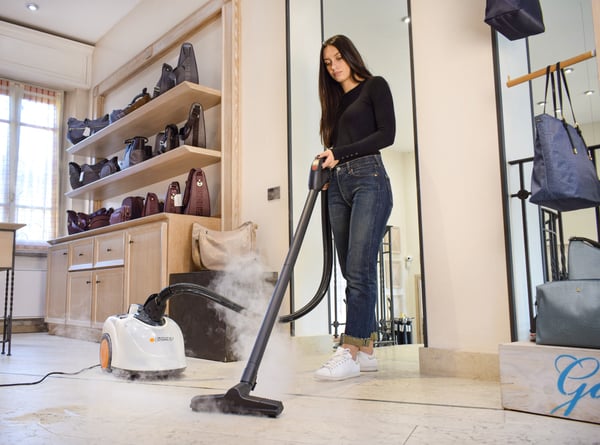 The DSG CAR-1.9 EPV steam generator with vacuum function completes the Comet's range of machines dedicated to cleaning small businesses. The High-temperature steam enables the removal of the toughest dirt and the cleaning of even the most unreachable floors and vertical surfaces, thanks to the many standard accessories present.
Water savings are 90% compared to traditional cleaning methods.
The steam generator has a HEPA H14 filtration system and a microfiber filter, which can be used for the steam and dust extraction functions; for the liquid vacuum function, on the other hand, the HEPA filter must be removed and the microfiber filter replaced with the sponge filter.
The 1.9kW AISI 304 stainless steel boiler is continuously fed from a dedicated tank.