Cleaning the floors in shopping malls, where thousands of people flock every day, is a guarantee of hygiene and hospitality too. Moreover a well-received customer is a customer who is more likely to buy.
The very long opening hours and the customers' constant presence, however, require fast and effective methods for cleaning the floors, to avoid annoying customers with the slow sweeping of brooms and wet rags. With sweepers, vacuum cleaners and scrubber dryers, the cleaning of supermarkets and shopping malls is quick and effortless.
Halls that are constantly trodden on, food courts where drinks and food fall to the ground, toilets, shelves full of goods, vehicles for restocking warehouses: the floors of a shopping mall get dirty quickly and must always be cleaned and sanitized. These large environments, however, make manual cleaning impossible. This is why it is essential to rely on professional products dedicated to floor care.
THE ADVANTAGES OF FLOOR CARE
Cleaning in shopping malls using vacuum cleaners, sweepers and floor scrubber dryers allows, first of all, carrying out cleaning operations in the presence of customers, as these tools can be used without having to fence the areas to the public.
Nowadays, in the mass retail trade, shops are open to the public 24 hours a day, so cleaning shifts cannot fence aisles and display areas. With vacuum cleaners, sweepers and scrubber dryers, which are easy to use, it is possible to operate even in the presence of customers and shop assistants, intervening immediately and leaving everything clean and dry.
The trampling of thousands of people who carry dust and stones from outside under their soles every day adds to the waste produced in the dining areas and toilets. The main advantage of the scrubber dryer is to obtain, with a simple passage, a deep cleaning, offering customers a high standard of hygiene. At the same time, the operation time and annoyance caused by cleaning with traditional tools such as brooms, dustpans, mops, trolleys and mops is strongly reduced.
Not to mention the operational advantage for workers: the range of Comet Floor Care machines, for example, features numerous models that are comfortable and agile to maneuver in supermarket aisles and warehouse shelves.
THE ADVANTAGES OF FLOOR SCRUBBER DRYERS
Scrubber dryers are the best tool for professionally washing and sanitizing floors of all kinds, materials and sizes. By cleaning and drying quickly and thoroughly, these machines ensure floors which are immediately dry and safe, thus preventing areas to be cleaned from being closed for long periods of time or someone from slipping on water residues.
These machines are characterized by the cleaning and abrasive action of rotating brushes which dispense a detergent solution on the floor to dissolve the dirt. The residual liquid is then collected by a squeegee and immediately conveyed into a special tank by a turbine, leaving the floor dry.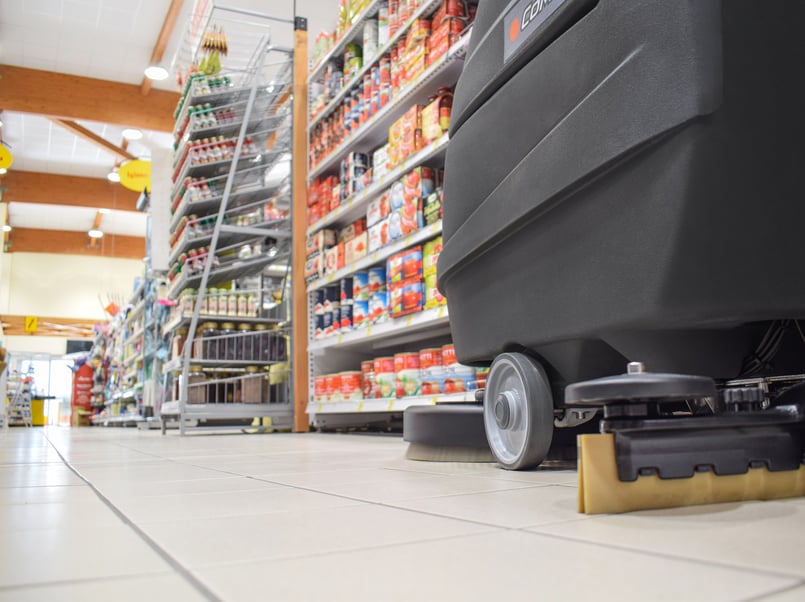 Scrubber dryers are divided according to how they are driven:
push (walk-behind) series are driven by the operator thanks to a handle on the back; they are suitable for the smallest spaces such as small warehouses, offices, conference rooms, refreshment rooms, cafés and all areas up to 500 square meters.
Their compactness allows frequent use in limited areas even in the presence of people, where a larger machine would be intrusive.
ride-on series are equipped with a seat for the operator and a steering wheel for driving. More powerful, they can comfortably operate in areas up to 12,000 square meters, such as e.g. large warehouses, logistics centers, companies, warehouses, etc.
Easy to use even by unskilled personnel, the scrubber dryers offer enormous advantages over traditional cleaning:
they reduce working time by more than 50%.
they wash and sanitize floors without fencing the area to the public
they consume less water and detergent, achieving a higher level of hygiene than conventional washing
they leave no marks or stains on the ground, ensuring an excellent aesthetic result.
THE ADVANTAGES OF THE SWEEPER
To collect coarse dirt and dust from every floor, the sweeper is the most suitable machine.
Thanks to its side brushes conveying the dirt towards a central roller brush, the sweeper loads the dirt into a special container, thus eliminating the effort required for manual sweeping, reducing working time and dust residues dispersed by broom and dustpan.
Sweepers are also divided into:
push (walk-behind) series, compact and agile, suitable for small environments and in the presence of obstacles;
ride-on series, powerful and fast, capable of high performance on very large surfaces.
When choosing a sweeper, it is necessary to consider the size of the environment and, depending on whether it is indoor or outdoor, the power supply of the machine: for open spaces, you can choose a machine with an internal combustion engine; for an enclosed space, on the contrary, you are obliged to choose an electric machine, to avoid the exhaust fumes emitted by endothermic models.
A wise choice will allow maximizing the working time and exploit the full potential of the sweeper, forgetting the waste of time and effort implied by traditional cleaning.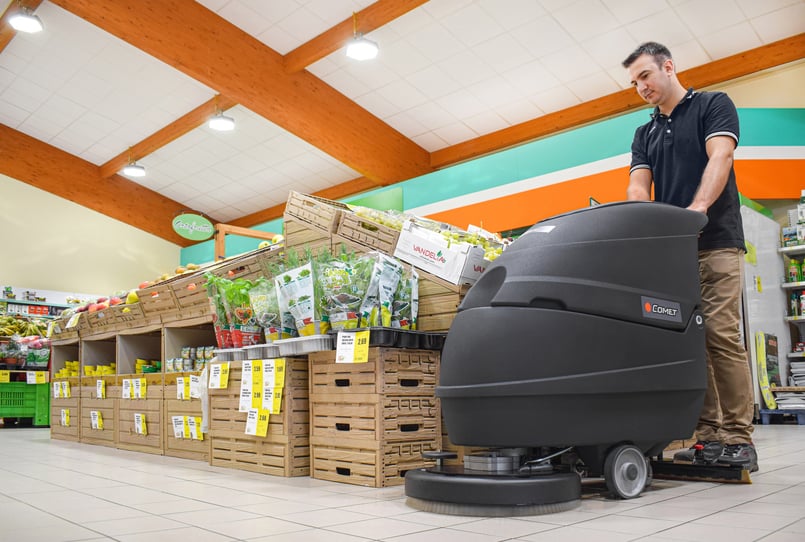 REMOVE THE WASTE WITH THE VACUUM CLEANER
Before working with sweepers and scrubber dryers on the floors, or to remove packaging residues and other coarse waste from the least accessible corners, you can use a vacuum cleaner.
There are many models of vacuum cleaners, equipped with numerous and practical accessories, suitable for every professional sector, including supermarkets and shopping malls where dust, waste and miscellaneous stains are not lacking and may be a cause of injury for customers or damage the goods on sale and stored.
For more information, please read PROFESSIONAL VACUUM CLEANERS: FOR A CLEAN AND HEALTHY WORKPLACE
Now that you know all the professional cleaning tools, all that's left to do is choose the ones that will make your retail space a real heaven for customers.