Restaurants, hotels and accommodation facilities: cleanliness and hygiene are key features to ensure a 5-star welcome for guests, just from the floor. Sweepers and floor scrubber dryers are the winning weapons.
In a hotel or restaurant lobby and corridors, the first thing customers notice is cleanliness. Walking on a sticky or dusty floor may cause bad reviews, which is why people working in the Horeca sector are required to clean and wash the floor every day, even several times a day.
It's impractical to do this with a broom, dustpan and mop, especially in environments where hygiene standards are very high - such as e.g. kitchens, cooking facilities, health clubs and bathrooms - and mere elbow grease is not enough to ensure maximum cleanliness. Not to mention the fact that too long cleaning operations means keeping the areas closed to the public. Choosing to address a cleaning company so frequently could be very expensive: the best solution is to use professional floor scrubber dryers and sweepers that are easy to use and highly efficient.
These machines are essential for the care and cleaning of high-traffic flooring and to prevent the floors from wearing due to incorrect cleaning methods.
FLOOR SCRUBBER DRYERS
Scrubber dryers are the best tool for the professional cleaning and sanitization of floors of all kinds, materials and sizes. They can wash hard, resilient or textile surfaces, both indoors and outdoors and in any dirty condition. They clean and dry quickly and thoroughly, ensuring floors are dry and safe immediately, thus preventing areas to be cleaned from being closed for long periods of time or someone from slipping on wet floor.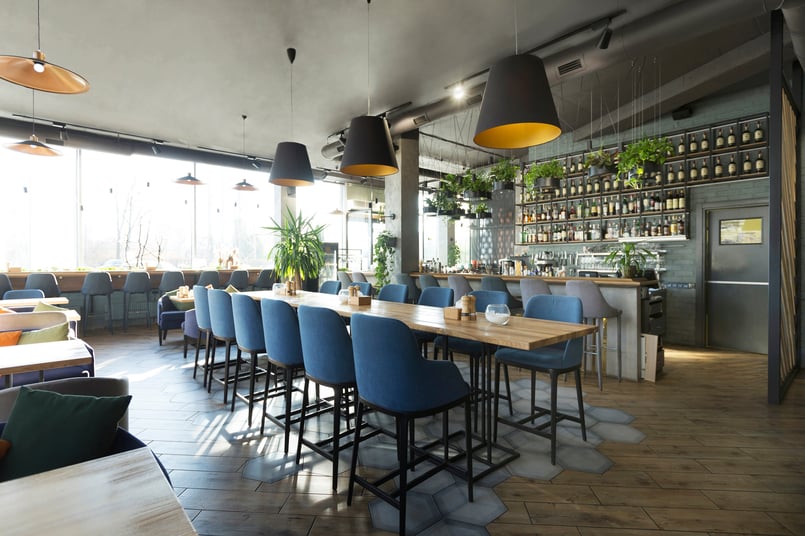 They rely on the cleaning and abrasive action of rotating brushes that deliver a cleaning solution to the floor to dissolve dirt. The residual liquid is then collected by a squeegee and immediately conveyed into a special tank by a turbine, leaving the floor dry.
Scrubber dryers are divided according to the way they are operated and the size of the space to be cleaned:
"push series" machines are operated by the operator using a handle on the back; it's a machine suitable for small spaces such as hotel rooms, offices, small conference rooms, break-out rooms, bars and all areas up to 500 square meters.
Their compactness allows frequent use in small areas even in the presence of people, where a larger machine would be intrusive.
ride-on machines are equipped with a seat for the operator and a steering wheel for driving. They are more powerful and can comfortably operate in areas up to 12,000 square meters, such as large halls, warehouses, airports, schools, etc.
With high output and longer operation, they allow a longer working time than a push-series machine.
FLOOR SCRUBBER DRYERS: ALL THE ADVANTAGES
Easy to use even by unskilled staff, the scrubber dryers offer enormous advantages over traditional cleaning:
reduce working time by more than 50%.
wash and sanitize floors without closing the area to the public
consume less water and detergent, achieving a higher level of hygiene than conventional cleaning
leave no marks or stains on the ground, ensuring an excellent aesthetic result.
CLEAN AND SANITISED FLOORS
Making guests feel pampered during their stay in a hotel means letting them relax in the swimming pool or wellness area without worrying about hygiene risks. With the application of special detergents, the scrubber dryer can thoroughly sanitize surfaces and eliminate bacteria and microbes, ruling out the slightest possibility of contamination.
The same applies to catering areas, where more or less large residues of food, drinks and other liquids usually fall to the ground. Just as often, however, these areas cannot be closed for cleaning, but must be cleaned immediately and in the presence of customers. The floor scrubber dryer, therefore, is the most suitable tool for cleaning and sanitizing floors, adapting in the most varied sizes to every space and need, ensuring safety, discretion and silence to intervene without disturbing customers.
The main advantage of the floor scrubber dryer is that it provides deep cleaning and sanitized floors in a single pass, drastically reducing the work time that would be spent using brooms, dustpans, mops and trolleys.

THE SWEEPER FOR COURTYARDS AND OUTDOOR AREAS
While indoor floors should always be clean and shiny, outdoor floors should be swept and cleared of all waste. Using a broom and dustpan, however, means spending hours - especially in a large car park or yard - only raising a lot of dust, which inevitably settles back on the ground.
To collect coarse dirt and dust from any flooring, be it ceramic, porcelain gres, marble, concrete, resilient materials or carpet, the sweeper is the most suitable machine.
Thanks to the side brushes that convey dirt towards a central roller brush, the sweeper loads dirt into a special container, eliminating the effort required for manual sweeping, reducing work time and the dust residues dispersed by broom and dustpan.
Sweepers are also divided into:
push-series machines, compact and agile, suitable for small areas and in case of obstacles;
ride-on machines, powerful and fast, capable of high performance on very large surfaces.
When choosing a sweeper, it is necessary to consider the size of the area involved and, depending on whether it is indoors or outdoors, the power supply to the machine: for open spaces, you can choose a machine with an internal combustion engine; indoors, on the other hand, you are obliged to choose an electric machine, to avoid the exhaust fumes emitted by endothermic models.
A wise choice will allow you maximizing working time and exploiting the full potential of the sweeper, forgetting about the time and effort wasted by traditional cleaning.